Frequently Asked Questions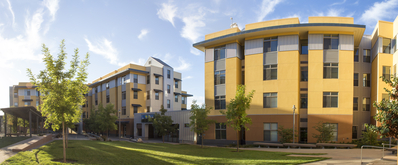 Q: During what time of year are conference housing facilities available?
A: Conference and guest housing facilities are currently available between June 1 to August 1. Orientation housing is available July 6 to August 4.
Q: Who is eligible to stay in guest accommodations and is campus affiliation required?
A: Yes, campus affiliation is required. UC Merced Conference and Event Services provides planning services for the University of California Merced community and outside groups which support and enhance the educational, research and public service mission of the University.
Only graduate students, visiting scholars/faculty and those conducting University of California business. Residents require a letter of invitation from a UC Merced department to be submitted electronically to  Dhenderson8@ucmerced.edu after completing the reservation request. To register see this link -
https://intelforms.ucmerced.edu/Form/SummerGuestHousing
For those wishing to stay as orientation housing guests, you must call Debbie Henderson at the Reservation Desk at 209-228-4663 between the hours of 9:30 AM to 4:30 PM Monday - Friday. Or send an email to  Dhenderson8@ucmerced.edu. Please be prepared to provide contact telephone number, email address, arrival date, approximate arrival time, departure date, approximate departure time, total number of attendees, room preference double/triple/quad. If disability accommodation is required and how you intend to pay (credit card, e-check, cash, or check). Please note: Payment is not accepted at check-in. Payment must be made prior to check-in. Once reservation is made, a confirmation email will be sent to you on the availability of your room, details on how to pay before arrival, check-in and check-out times and directions on how to get to UC Merced.
Q: Is there smoking allowed on Campus?
A: UC Merced is a smoke and tobacco free campus effective January 1, 2014. UC Merced prohibits smoking, the use of tobacco products, and the use of unregulated nicotine products (e.g. e-cigarettes) in a facilities and on all university-owned and leased properties, both indoor and outdoor. This policy applies to all members of the UC Merced community including faculty, staff, students, volunteers, contractors, visitors and anyone on university-controlled property. Please view this link for more information: http://smokefree.ucmerced.edu/policy
Q: How to obtain a rate quote for conference group?
A: Contact Debbie Henderson, Manager of Marketing, Conference and Event Services at dhenderson8@ucmerced.edu. 
Q: What group sizes can you accommodate?
A: Currently we can accommodate groups between 3 to 200 people.
Q: Are meeting and sleeping rooms air-conditioned?
A: Yes, all of campus, residence halls, meeting rooms, classrooms, dining center are fully air-conditioned.
Q: Are there sleeping rooms with disabled access?
A: Yes, our facilities are ADA compliant. Please contact the Conference Manager to access disability related accommodations.
Q: Is public transportation available for conference guests?
A: Yes, public transportation is available. Please see this website for UC Merced bus routes and schedules: http://www.mercedthebus.com/DocumentCenter/View/104
Q: What appliances are permitted?
A: One Energy Star rated microfridge no larger than 4.2 cu. ft., or one Energy Star rated microwave oven and on Energy star rated compact refrigerator not to exceed 4.2 cu. ft. Larger sizes will be rejected. For safety and sanitation reasons, the use of electrical cooking appliances are not permitted in Housing and Residence Life.
Q: Where can I do laundry?
A: Guests staying in Cathedral Hall in the Summits have access to the laundry room 24/7. It is $1.25 to wash ($1.50 super cycle) and $1 to dry. Guests must provide their own detergent and money to operate machines.
Q: What time is check in and check out?
A: Orientation, check in:
Monday - Thursday from 2 PM to 10:00 PM
*Friday from 2 PM to 10:00 PM
*Saturday - Sunday from 7:00 AM to 11:00 AM
Friday, Saturday, & Sunday check in and checkout times apply to students attending Saturday Orientation ONLY.
Check out is on Monday - Friday from 7:00 AM and 11:00 AM.
Important Policies:
If a guest arrives after check-in has concluded, without making prior arrangements, they will be directed to a hotel for the night.  If a guest wishes to stay past 11 AM on their check-out date they will be charged with a daily rate of $20
Q: Is alcohol allowed?
A: If people over the age of 21 wish to drink alcohol they must drink in the privacy of their room. If alcohol is a part of their conference, it must be served under the supervision of Lakeside Catering in accordance with UCM policy. The conference group must also furnish liquor liability insurance. Absolutely no alcohol can be served to people under the age of 21.
Q: Is there security on campus?
A: Yes, the UC Merced Department of Public Safety is available 24-hours a day, 365 days a year. For both emergency and non-emergency matters, feel free to contact the dispatcher at 209-228-2677.
Q: What dining services are provided by the University and what are their hours?
A: There are a variety of locations to dine at the University of California, Merced.
Conference guests have two meal plan options. The first option is a la carte dining with cat card. Funds are allocated on the CatCard and mimics the "collegiate experience." Unused plan dollars are non-refundable. The other option is a flat rate meal with group identification where each guest will receive a pass which includes an entree with 2 sides, a beverage and dessert. Groups larger than 100 guests may request additional offerings through the Conference Manager. Here are some meal rates: breakfast - $8.50, Brunch - $10.50, Lunch - $10.50, and Dinner - $11.50.
The locations and hours are as follows:
The Yablokoff-Wallace Dining Center Hours
Monday - Friday
Breakfast: 7 AM - 9 AM
Lunch: 11AM - 2 PM
Dinner: 4 PM - 6:30 PM
Saturday - Sunday
Brunch: 11 AM - 1PM
Dinner: 4 PM - 6PM
Lantern Cafe:
Monday - Friday
7:30 AM - 2 PM
Diesel Dogs/Fork in the Road
Monday - Friday
11 AM - 2 PM
Summits Marketplace
Monday, Wednesday, Friday
6 PM - 9 PM
Q: Does UC Merced provide catering?
A: Yes, with expertise of Lakeside Catering staff, we can help you plan a wide range of beverage and food service menu items, from refreshment breaks to barbecues and elegant lunches or evening banquets. Boxed meals and specialty desserts are also available. For more information on Lakeside Catering and to assist you developing your meal please contact the Debbie Henderson, Manager of Marketing, Conference and Event Services.  
Q: Can special dietary needs be accommodated?
A:Yes, please contact the Conference Manager to address your dietary needs.
Q: What if my key to the residence hall is lost?
A:You will be charged for lost keys. 1 bedroom - $52, 2 bedrooms - $98, and 3 bedrooms - $138.
Q: Are postal mail services available?
A: Postal services are available to groups staying longer than 7days.
Q: I received a parking ticket. Can you help me?
A: Conference services is unable to assist with parking citations. Parking space designations and posted restrictions are strictly enforced on campus and violations may result in parking citations.
Q: Does UC Merced offer bike rental or bike purchasing services?
A: UC Merced currenlty does not offer bike purchasing or rental services. However, there are many stores off campus that can be used to either purchase/rent a bike. Some of the stores that sell bikes in Merced: Target, Walmart, Costco, Sears, or Kevin's Bikes.