Guest Services and Information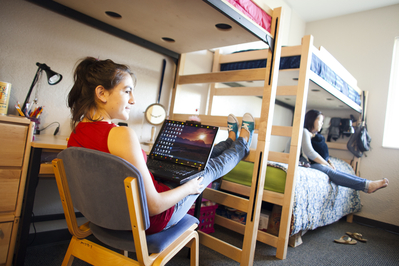 Register for Orientation Housing
New Student Orientation Housing
| | | | |
| --- | --- | --- | --- |
| Orientation Date | Reservation Closes | Orientation Date | Reservation Closes |
| Tuesday, June 27 (Closed) | 06/13/2017 | Friday, July 14* (Transfer) | 06/30/2017 |
| Thursday, June 29 (Closed) | 06/15/2017 | Tuesday, July 18 | 07/04/2017 |
| Thursday, July 6 (Closed) | 06/22/2017 | Thursday, July 20* (Spanish Speaking Parents Only) | 07/06/2017 |
| Saturday, July 8* ((Closed) | 06/24/2017 | Saturday, July 22 | 07/08/2017 |
| Tuesday, July 11 (Closed) | 06/27/2017 | Tuesday, July 25 | 07/11/2017 |
| Thursday, July 13 | 06/29/2017 |   |   |
Register for Graduate Orientation (GROW) Housing
Graduate Orientation will be from August 7th through August 15th. Housing will be located in our Heritage Apartment complex in Merced and the nightly rate is $35 per person. The deadline to sign up for housing is July 24th.
Guest Housing
Sign up for Summer Guest Housing
Parking
For parking information, please visit the Transportation and Parking Services website.
Parking is free on the weekends.  
Important Phone Numbers
Debbie Henderson, Manager of Marketing, Conference and Event Services
Dhenderson8@ucmerced.edu
209-233-2563
Keys
For the safety of our guests, buildings are locked at all times. For any keys lost there is a replacement fees. 1 bedroom - $38, 2 bedroom - $45, and 3 bedrooms - $45.
Mail Services
Mail services are not provided to guests at this time.
Emergency Services
The Summer Conference Assistant is on call only for lockouts post 5pm to 8am.  In a true emergency call 911.
If an event of an emergency below is important contact information:
Police: 911
UC Merced Police: 209-228-4663
Mercy Medical Center: 333 Mercy Ave., Merced, CA 95340   Phone: 209-563-5000
During Your Stay
If you stay longer than 7 days then linen exchange is currently on Fridays between 8 AM - 4 PM by coming to the Terrace Center Housing and Residence Life Office. See link for map of housing: http://housing.ucmerced.edu/housing/map-housing​
If you stay longer than 7 days custodial services will vacuum and empty your trash on Wednesdays between 10:30 AM - 3 PM.
Throughout the summer we share our campus and housing facilities with a variety of guests from conference services. Please be respectful and if you have any concerns contact the 

Manager of Marketing, Conference and Event Services at 

209-233-2563.

Report any damages or lost keys before or at time of check-out.
Dispose of excess mess in room or suite.
Return furniture to original position.
Upon check out visit the Terrace Center Housing and Residence Life Office to return keys.
Fire Safety
Emergency procedures and evacuation maps are posted on the back of each bedroom door in Cathedral, Mariposa, Tuolumne and the Valley Terraces. Higher Education Opportunity Act Annual Fire Safety Report
Blue Emergency Phones
Emergency phones are placed strategically throughout campus. In an emergency only, press the button on the phone and it will connect you directly to UC Merced's Department of Public Safety Dispatch.
Security Cameras
Security cameras are placed in strategic locations in many of the public areas of Housing and Residence Life.
Mass Notification
Cathedral Hall is equipped with a Mass Notification System (campus wide paging system). This system is used to notify the campus of an emergency situation that may require specific instructions and could be used during a severe weather event, natural disaster, or other emergency event. Amber strobe lights will flash and a pre-tone will sound pending an announcement.
Internet Access
Guest access is available on campus. Detailed configuration instructions are available for both Windows and mac. Users should take special note of the port restrictions. Please see this website for more information:http://it.ucmerced.edu/get-help/guides-faqs/wireless-networking
Checking in and out
Checking in and out for orientation housing occurs in the Terrace Center Housing and Residence Life Office. Check-ins occur Monday - Thursday from 2 PM to 10:00 PM and will not be accommodated after 10:00 PM unless arrangements have been made prior to arrival. Check-outs occur Tuesday - Friday from 7 AM to 11 AM. If a guest wishes to stay past 11 AM they will be charged with a daily rate of $20.  
Getting to UC Merced
Please see this link for directions and maps: http://www.ucmerced.edu/directions-map
Rates
Guests participating in orientation have rate of $20 per guest/per night.
Amenities
Rates do not include food and beverages. Currently no mail service is available and no TV, refrigerator, or phones are in the rooms. If a guest stays beyond 7 days there is light housekeeping provided on Wednesdays between 10:30 AM - 3 PM. Guests may also exchange linen if they stay past 7 days by coming to the Terrace Center Housing and Residence Life Office on Fridays.
All rooms include one set of bed linens per person (blanket, sheets and pillow). One set of bath linens per person (towel, hand towel and wash cloth). All bathrooms in contain toilet paper. All guests will need to bring their own toiletries (soap, body wash, shampoo, toothbrush, etc.).
Recreation
There are many options for people interested in using the Joseph Edward Gallo Recreation and Wellness Center and the Student Activities & Athletics Center. Here is a website link for more information: http://recreation.campuscms.ucmerced.edu/memberships/rates
Register for Orientation Housing
Conference & Event Services