ALERT: This page is under construction. We apologize for the inconvenience.
Table of Contents
About
The health and safety of our campus community is a top priority. UC Merced continues to respond to the novel coronavirus, and the below information is subject to change. Please stay up to date with the latest information for students here.
Incoming first-year students for Fall 2022 are guaranteed housing for two years. Incoming transfer students are guaranteed housing for their first year at UC Merced.
On-campus housing priority is as follows:
Incoming first-year and transfer students
Students who have approved housing accommodation requests
Housing insecure students (including international students)
Second-year students
Third-year+ students
Students who need assistance looking for off campus housing in the Merced area are encouraged to visit och.ucmerced.edu or email och@ucmerced.edu.
Contracts and Rates
The room and board rate billed to students will depend on their contract type, room type, and meal plan.
Contract type: We offer two types of housing contracts: Academic Year and Year-Round.
Room type: single, double, triple, and quad. Please click here to browse residence halls and housing options.
Meal plan: All meal plans grant unlimited access to the cafeteria. Meal plans differ in how many CatDollars are loaded onto the student's CatCard.
Please note that although you may indicate a room preference in your application, you are not guaranteed that room type. Room assignments will be sent out in late July. Billing will be posted to your student account in August.
For more information on housing contracts and rates, please visit Housing Contracts and Rates.
Application Process and Timeline
All housing applications are submitted through the Housing Portal.
Prepare

Learn more about housing options and check out building info here. 
Consider Living Learning Community options.
If you would like to request housing accommodations, please click here for more information. The priority deadline for housing accommodations is Tuesday, June 1, 2022 by 11:59 p.m.

Apply for Housing by JUNE 1, 2022

Go to the Housing Portal to submit your application. Click here for a step-by-step guide on how to submit your application.
Once you have submitted your application, you will receive a confirmation email.

Sign your contract by AUGUST 1, 2022

​​​​​​​Within 3-5 business days, a housing offer and contract will be posted on your housing portal. Please check your email regularly for notifications.
Go to the Housing Portal to sign your contract. Click here for a step-by-step guide on signing your housing contract.
Once you have signed your contract, you will receive a confirmation email.

Housing Assignment

Please check your UC Merced email regularly for updates on roommate selection, room assignment, and move-in details.
Students interested in residential overnight parking may visit the UC Merced Transportation and Parking Services site to learn more. Overnight parking is available for permit holders in Bellevue Lot and in Scholar Lot - designated H Zone.
Moving In
Move-in will take place between 8 a.m. to 5 p.m., Wednesday, Aug. 18 through Sunday, Aug. 29. Students will be assigned a specific move-in day and time via their UC Merced email by the first week of August.
What to Bring
UC Merced Housing and Residence Education wants to help make your transition to college as smooth and comfortable as possible. To help ensure students have what they need in their residence hall and make it feel like home, we have put together a list of what to bring and what to leave at home.
Furniture for each student in an undergraduate room includes:
a desk (30" tall x 45" wide x 24" deep)
three-position chair (32.5" tall x 20" wide x 22.5" deep)
solid maple bedframe (36" tall x 83" long x 40" wide)
a mattress (8" tall x 38" wide x 80" long)
two solid maple stackable storage units (16" tall x 31" wide x 24" deep).
More information on the bed frame provided to residents is available here. The mattress provided to students measures 38 inches wide by 80 inches long by 8 inches deep. Triple and quad units have combinations of bunked and lofted beds.Tag boards are also included in each room.
COVID Testing
All residents must take a COVID saliva test upon arrival. Please schedule your appointment according to your arrival time: myhealth.ucmerced.edu.
The saliva COVID test is free and quick. Testing will take place in the California Room, near the Resident Education Office. The COVID test requires that you don't eat, drink, or put anything in your mouth for 30 minutes prior to arrival. This includes no water, coffee, gum, vaping, or anything else in the mouth for 30 minutes prior to your testing.
If you test positive for COVID-19, or are experiencing symptoms consistent with COVID-19 prior to arrival, please contact the Covid Response Center (CRC) at CovidResponseCtr@ucmerced.edu or 209-228-0000 as soon as possible. Do not come to campus if you are experiencing symptoms or have tested positive without consulting the CRC.
Unloading
Unloading zones for each residence hall:
Half Dome, Tenaya, Cathedral: Scholars Lot
Mariposa, Tuolumne, Valley Terraces: Muir Pass or Scholars Lot
Glacier Point, Granite Pass, Sentinel Rock, or El Portal: Bellevue Lot
After unloading, move car to long-term parking in the Bellevue Lot or depart campus.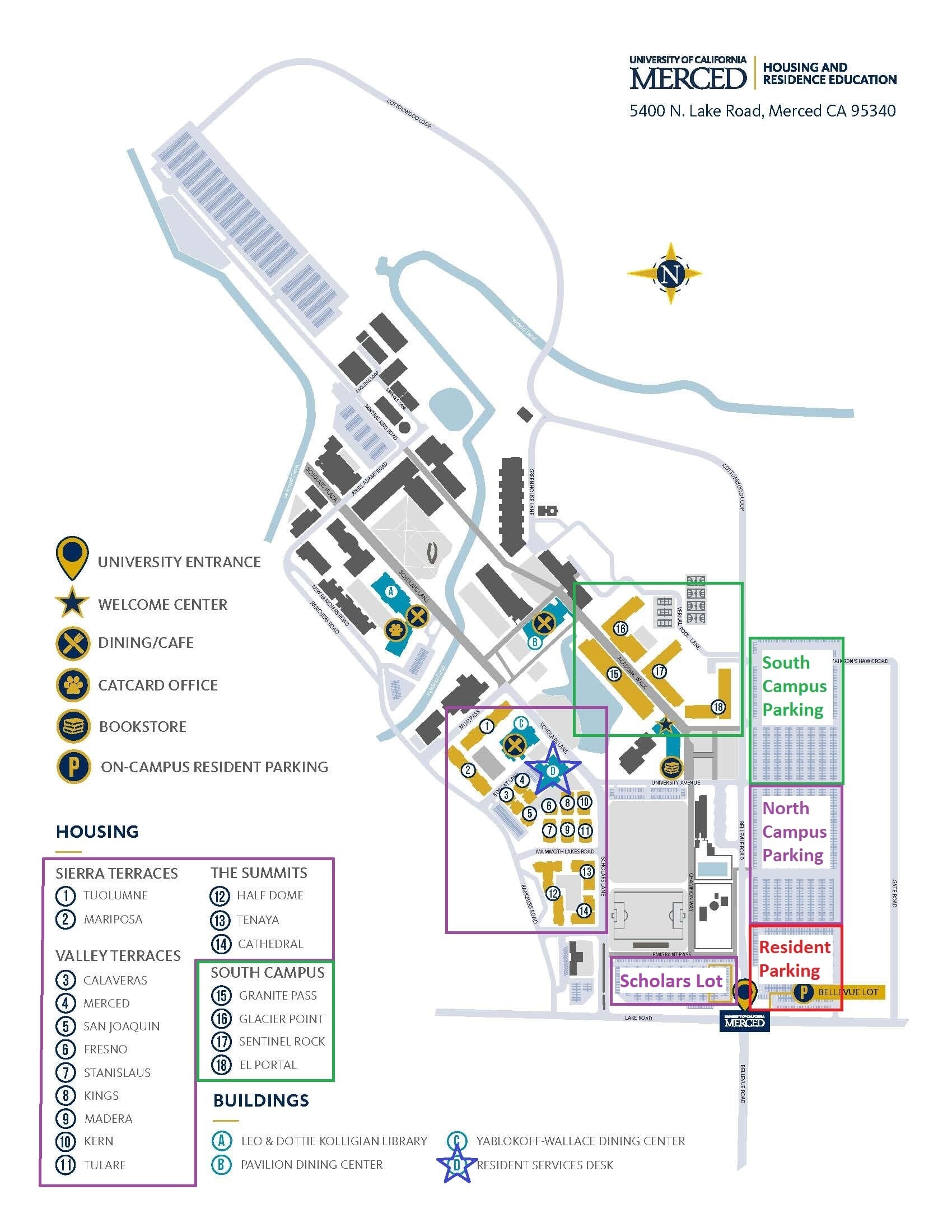 Everyone on campus is required to wear face coverings. For the latest information on COVID-19 mitigation measures, please click here. Families can accompany students to campus to help with unloading.
During fall move-in Merced tends to have temperature from 80 to 100 degrees. We want to make sure that families are aware of the hot temperature when making move-in plans.
CatCard
CatCards are UC Merced student ID cards. They are used to check out books at the library, access the gym, check in at events, etc. On-campus residents need their CatCard to access their residence hall and the dining center.
CatCards can be loaded with CatDollars. CatDollars are university-only money that can be used for university transactions. For example: textbooks, the campus store, vending machines, the Lantern Cafe, campus food trucks, etc. Simply tap, swipe, or scan your card at the checkout to pay.
New students pick up their CatCard at move-in. Students may opt to submit their photo online to expedite the move-in process. Otherwise, an ID photo will be taken on-site. For more information, please visit the CatCard website.
In the event that you lose or damage your CatCard, please click here to get a replacement. 
Resident Information
Campus Policies
The housing handbook covers all the policies, rules and amenities for students living on campus. Please review this handbook and pay attention to interim policies related to COVID-19.
Mailing Address
Use the following format as your mailing address:
[Your Name]
5400 N. Lake Rd.
[Building] [Room]
Merced, CA 95340
You can pick up your mail at the Valley Terraces Residence Education Office.
Utilities
Please click here to see information about residence hall utilities and resources, including information about HVAC, kitchens, work orders, etc.