Living Learning Communities (LLCs) are partnership programs sponsored by the Office of Residence Life and Education. The purpose of Living Learning Communities at UC Merced is to enhance student learning and persistence, intellectual development and to bridge the gap between students' in-class and out-of-class experiences. These programs have specific structures that facilitate student interactions with other students, faculty and staff, including community outreach components. Examples of structured activities are field trips, service learning projects, cluster classes and many cohort and community based social activities. Descriptions of each LLC can be found below, as well as by clicking here.
Students with similar interests or major live together and participate in programs that cater to their academic, social and personal growth. Students in these living-learning environments will have opportunities to interact with faculty,  student and staff mentors.
All students are encouraged to apply for a Living Learning Community. Participation is an excellent step to a great experience at UC Merced.
If you have specific questions regarding housing, including the cost of housing and meal plans, please visit the housing website.
Available to: First-year students
Located in: First and third floor of Tenaya Hall
Fiat Lux is aimed to enhance students' academic performance, drive, ambition and overall college experience. Members of this program are encouraged to live together as part of the Fiat Lux Living Learning Community. Fiat Lux residents will have the opportunity to participate in monthly faculty receptions and participate in the common course USTU 10.
Interested students should contact Fiat Lux.
Available to: First-year students
Located in: Glacier Point
Students in the School of Natural Sciences may participate in a one of four academically themed Natural Sciences Living Learning Communities. The communities include Aristotle House: Leadership, Education, Service; Beyond the MD: Biomedical Sciences and Health Professions; Carson House: Sustainable Futures annd Vaughan House: The Digital Abacus. These four houses are special residential communities cosponsored by the School of Natural Sciences, which houses Applied Mathematics, Biological Sciences, Chemistry, Environmental Systems Science and Physics.
In the news: 
Science-Themed Living Learning Communities Enjoy Success Debut
Available to: First-year students. All first-year students who complete the full year of the Leadership and Service LLC are eligible to participate in the second-year experience of the Leadership and Service LLC.
Located in: El Portal (first-year students) and Mariposa (second-year students)
The Leadership and Service Living Learning Community is open to first-year students who are interested in exploring and developing leadership and becoming an active and engaged member of their community.
Available to: First-year students
Located in: Cathedral Hall
The Social Justice Living Learning Community is for first-year students interested in engaging in conversations around equity, diversity and inclusion, as well as building community through a social justice lens. Scholars in the Social Justice LLC will engage in a shared course and take part in various activities on and off campus. They will also receive direct support and mentorship from staff, faculty and upperclassmen through three student success-driven value areas:
Identity exploration and self-awareness
Inclusive leadership and relationship building
Academic excellence and support networks
Social Justice LLC residents can explore any academic program and come from any major. The community encourages scholars to engage in and learn about social justice in an interdisciplinary manner through projects they collaborate on, monthly discussions, community service and programming designed for their success. The program will provide connections and skills to support students from their first year through graduation.
Interested students or those with questions may contact Lorene Fisher, coordinator for Social Justice Initiatives and Identity Programs, at lfisher3@ucmerced.edu with the subject line: "Social Justice LLC Inquiry."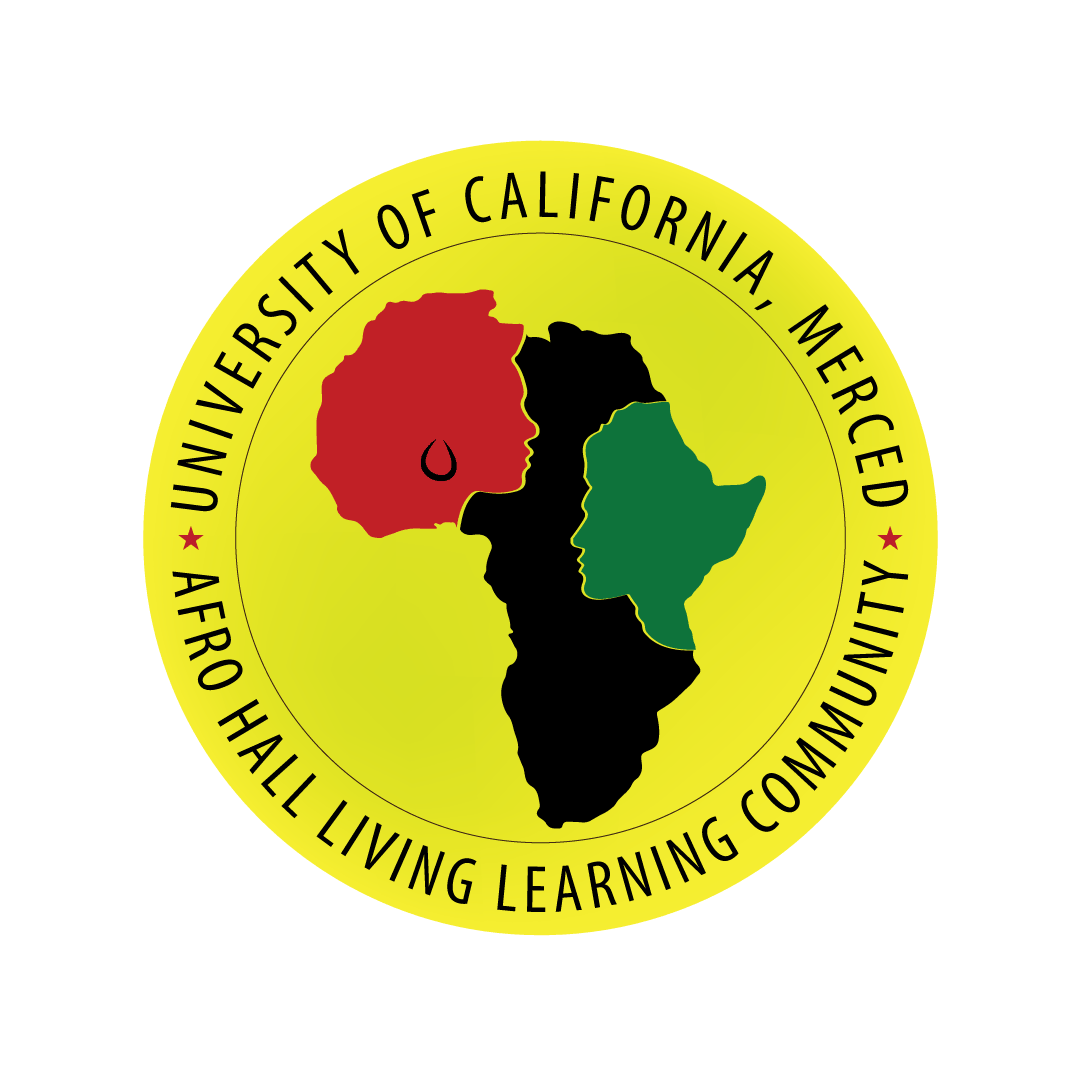 Available to: First-year and continuing students
Located on: Cathedral Hall
The AFRO (Afrikans for Recruitment and Outreach) Hall Living Learning Community welcomes first-and second-year students from all cultures within the African diaspora who are interested in exploring their African and black identities while enhancing their collegiate experience through networking and mentorship opportunities, academic support, and community engagement.
The program was established by student leaders of the AFRO Organization to unite students in the African diaspora and to increase the retention and four-year graduation rates through various resources that enhance students' academic success. As a signature initiative of the AFRO student organization, AFRO Hall provides opportunities for scholars to engage in three student success-driven focus areas:
Community building and cultural capital
Academic excellence and retention strategies
Community outreach and servant leadership
Not only was AFRO Hall made possible by student advocacy, but this community remains today thanks to the commitment of student leaders of the AFRO student organization and their partnerships with staff and faculty across campus. Those interested or with questions may contact Lorene Fisher, coordinator for Social Justice Initiatives & Identity Programs at lfisher3@ucmerced.edu with the subject line: "AFRO Hall Inquiry."
Watch a video introduction to UC Merced's AFRO Hall by clicking here.
Available to: Second-year students
Located In: Half Dome and Tuolumne
The Sophomore Year Experience provides participants with experiences and opportunites to maximize their second year. The program's four pillars provide participants with focused support on areas proven to promote academic and personal growth in the second year. These areas include life skills, academic preparation, major and career selection and community engagement.
Available to: Transfer students
Located in: Valley Terraces
The Transfer Living Learning Community provides a supportive environment for transfer students to successfully transition to UC Merced's culture and community.
As a community of transfer students transitioning from another campus to life here at UC Merced, we aim to provide resources that vary widely from freshmen services because we recognize the support you need is different. We do this by providing academic support for upper division courses, a transition course only for transfers, a close-knit community of students looking for a social experience that will help them build a network on campus and an opportunity to meet faculty and learn about the value of research.
If you would like to learn more about the Transfer LLC or have questions, please contact Program Coordinator Rosa Hernandez at rhernandez75@ucmerced.edu.
---
References
Tinto, V. (2000). Learning Better Together: The Impact of Learning Communities on Student Success. Journal of Institutional Research.
Stassen, M. L. A. (2003). Student Outcomes: The Impact of Varying Living-Learning Community Models. Research in Higher Education.
Brower, A. M., Inkelas, K. K. (2010). Living-Learning Programs: One High-Impact Educational Practice We Now Know A Lot About. Liberal Education.