Fall 2020 Instruction and Student Housing
Interim Chancellor Nathan Brostrom's Message on Building the Future
July 10 Updates on Fall Housing and Instruction from Vice Chancellor Charles Nies
July 13 Fall 2020 Campus Housing Update
Please stay up to date with the latest information for students about fall 2020 here: https://doyourpart.ucmerced.edu/student-information.
Greetings incoming residents! We are excited about your upcoming arrival to UC Merced Housing and Residence Education, and we want to help make your transition to college as smooth and comfortable as possible. To help ensure that you have what you need in your residence hall and make it feel like home, we have put together a list of what to bring and what to leave at home.
Symptom Monitoring
In preparation for students arrival to campus, all residents are expected to participate in symptom monitoring for 14 days prior to their assigned move-in date. Arrival also includes a COVID-19 testing component. Please refer to the chart below for more information:
| Assigned Move-In Date |  Aug. 21 | Aug. 22 | Aug. 23 | Aug. 24 | Aug. 25 | Aug. 26 | Aug. 27 | Aug. 28 | Aug. 29 | Aug. 30 | Aug. 31 | Sept.1 | Sept. 2 |
| --- | --- | --- | --- | --- | --- | --- | --- | --- | --- | --- | --- | --- | --- |
| Begin symptom monitoring on: | Aug. 6 | Aug. 7 | Aug. 8 | Aug. 9 | Aug. 10 | Aug. 11 | Aug. 12 | Aug.13 | Aug.14 | Aug.15 | Aug.16 | Aug. 17 | Aug. 18 |
| Pre-arrival COVID test no EARLIER than: | Aug. 15 | Aug. 16 | Aug. 17 | Aug. 18 | Aug. 19 | Aug. 20 | Aug. 21 | Aug. 22 | Aug. 23 | Aug. 24 | Aug. 25 | Aug. 26 | Aug. 27 |
| Seven-day sequester ends (negative COVID test): | Aug. 28 | Aug. 29 | Aug. 30 | Aug. 31 | Sept. 1 | Sept. 2 | Sept. 3 | Sept. 4 | Sept. 5 | Sept. 6 | Sept. 7 | Sept. 8 | Sept.9 |
| 14-day sequester ends (no COVID test): | Sept. 4 | Sept. 5 | Sept. 6 | Sept. 7 | Sept. 8 | Sept. 9 | Sept. 10 | Sept. 11 | Sept. 12 | Sept. 13 | Sept. 14 | Sept. 15 | Sept. 16 |
Residents will receive more detailed emails with instructions about symptom monitoring. These emails will include information about how to use the UC Merced symptom monitoring app. To be approved to return to campus, residents must enter one response each calendar day for 14 days prior to their assigned move-in date. Please read and follow the instructions in the emails about symptom monitoring. 
COVID-19 Testing
A COVID test, taken no more than seven days prior to residents arrival to campus, is recommended. A negative COVID test reduces campus sequestration time from 14 days to seven days. COVID test results will be uploaded directly to the student health center using the same web interface used for uploading vaccination information. COVID testing may not be available to all residents prior to arrival. Residents unable to get a COVID test before arriving will be assigned the 14-day sequestration time. 
How to upload your COVID test results:
Go to myHealth Portal.
Click on the "messages" link on the left side.
Click "new messages."
Click the line item for "COVID-19 Test Results" and click "Continue."
Follow the prompts on the page.
Sequestration
Sequestering means minimizing in-person interactions among students, faculty and staff, whether in the dorms, dining facilities, classrooms or other campus locations where students congregate. It also includes off-campus spaces for those students who live at home or in off-campus housing. Students should leave their on- or off-campus residences only to participate in essential activities. For UC Merced, essential activities are defined as getting food from the dining hall, participating in low-risk outdoor recreational activities, obtaining health care services, picking up mail and picking up books. Students can't leave campus during sequestration and should move in prepared with all items needed for the first 14 days on campus.
If a resident has a negative COVID test result within seven days prior to their arrival, their sequestration time will be seven days from their move-in date. If a resident is not able to get a COVID test prior to arrival, they will sequester for 14 days from their move-in date. More information about symptom monitoring and COVID testing will be emailed to residents.
A symptom check must take place each day for 14 days prior to residents arrival. If you have questions or concerns, or if something is not working, please contact COVIDResponseCtr@ucmerced.edu or call 209-228-0000.
Moving in consists of the following steps: 
Arrive in Scholars Lot. 
Get a CatCard (New/Replacement) in the Alpine Room, check in and get keys and carts. 
Unload. (Half Dome, Tenaya, Cathedral: Scholars Lot only) (Mariposa and Tuolumne: Muir Pass or Scholars Lot)
Move car to long-term parking in the Bellevue Lot or depart campus.
Friday, 8/21/2020, 8am to 5pm
Saturday, 8/22/2020, 8am to 5pm
Sunday, 8/23/2020, 8am to 5pm
Move in will take place from 8 a.m. to 5 p.m. Friday, Aug. 21, through Sunday, Aug. 23. We will assign each student a specific move-in date and time to comply with social distancing guidelines and to keep all students and family safe. Please move in at this assigned date and time. Please contact housing@ucmerced.edu if the assigned move-in date or time not possible for you. Please understand that a change may take some time to figure out based on other students' move-in dates and times. 
Check-In Stations
Residents will get their room keys at the check-in station.
Students assigned to Cathedral, Tenaya and Half Dome halls will check in at the Crescent Arch Room in the Half Dome residence hall.
Students assigned to Mariposa and Tuolumne will check in at the California Room at 100 Terrace Center. 
Please look for maps and signs at the Scholars Lot to Crescent Arch Room and California Room. 
Unloading and Moving In
Families can accompany students to campus to help with unloading. Due to physical distancing requirements, students are limited to two adult guests to enter the building for move in. Children under 13 can accompany the adults, but all persons must wear a face covering. Elevator use is restricted to one occupant per elevator, per trip. Family members can wait in the student's room to assist with unloading and unpacking but must stay in compliance with physical distancing. This requirement includes no congregating in hallways or lounge areas. All persons will be expected to wear a face covering while helping with move in. 
Temperatures in Merced regularly exceed 100 degrees during August move-in dates. Families should consider this when deciding who should come to campus, as there will be no enclosed cooling areas or public water distribution stations due to COVID-19 distancing and safety policies. 
Family or friends are not permitted to spend the night with students in their room. Guests who do not comply with our policies will be asked to leave. Students are responsible for the actions of their guests at all times, including during move in.
Mailing Address
Use the following format as your mailing address:
[Your Name]
[Building] [Room]
5400 N. Lake Rd.
Merced, CA 95340
You can pick up your mail at the Valley Residence Education Office.
Download the complete instructions for using smart lockers via Smiota PoDS.
Valley Residence Education Office Hours
The housing office is open 10 a.m. to 6 p.m. Monday through Friday and 2-7 p.m. on Saturdays. Closed Sundays. Please direct question to the office at 209-228-4663 or the Housing Contact Form.
Move-In Parking
All residents of Mariposa and Tuolumne using Muir Pass for loading and unloading must leave a driver with the car on Muir Pass. Use of unloading areas in Scholars Lot and Muir Pass are limited to 40 minutes for unloading.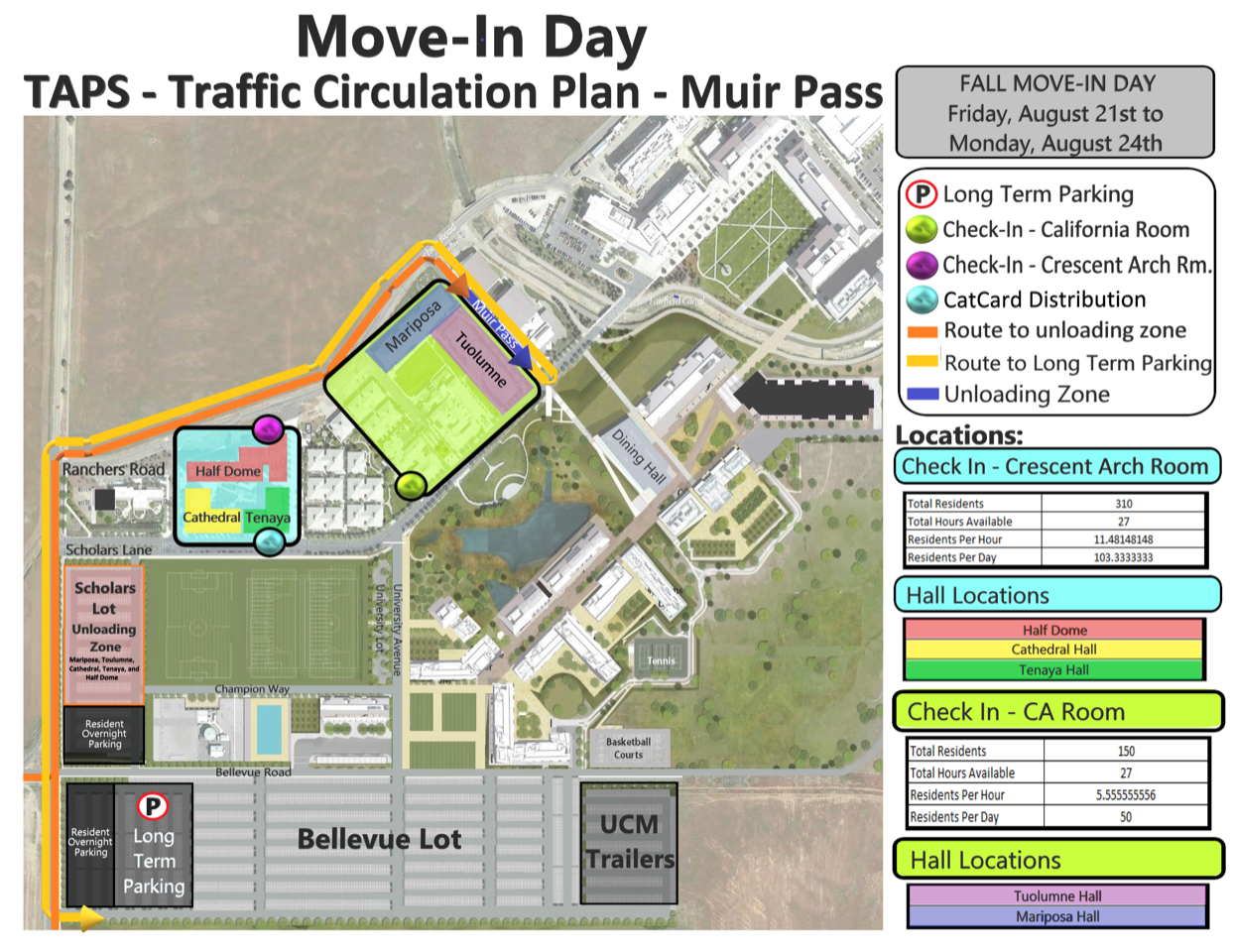 If you are interested in buying an overnight parking permit for residential students, please visit https://taps.ucmerced.edu/permits/students or contact taps@ucmerced.edu. Family or friends are not permitted to spend the night with students in their room.
As part of UC Merced's response to the coronavirus pandemic, Dining Services will only operate the Pavilion Dining Center for meal service. Dining will be for take-out only and additional protocols will be in place to protect public health. Additional information on how to use the Pavilion will be posted on the Dining Services website soon. Meal plans begin Friday, Aug. 21. Changes to meal plans must be made in the
Housing Portal
by 5 p.m. Thursday, Aug. 20.
Move-in dining hours:  
Friday, Aug. 21 – 9 a.m. to 7 p.m. 
Saturday, Aug. 22 – 9 a.m. to 7 p.m. 
Sunday, Aug. 23 – 9 a.m. to 9 p.m. 
Monday, Aug. 24 onward – Please check the dining website for fall 2020 hours. 
CatCards allow access to many services on campus including building access and dining services. New students must submit a photo online by 11:59 p.m., Aug. 12. Photos can be submitted here: http://catcard.ucmerced.edu/services/photo-selfie. If you have any problems with this service, please email CatCard@ucmerced.edu. 
At move in, new students will first pick up their CatCard at the Alpine Room. Please follow the signs from the Scholars Lot parking area to the Alpine Room. You'll need to provide a form of picture ID to claim your CatCard.
Continuing students who have lost their CatCard and need a replacement should visit http://catcard.ucmerced.edu/manage-account/replacement-catcards and follow the instructions to replace their card.
The textbook annex will be closed and students will need to order their books online at www.ucmercedstore.com and choose either in-store pick up (starting Aug. 10 or sooner) or have the books shipped to them.
The bookstore will be open the following dates and times: 
11 a.m. to 3 p.m. Aug. 20-23 
8 a.m. to 6 p.m. Aug. 24-28
Closed August 29 - 30
Aug. 31 going forward: 10 a.m. 4 p.m. These hours maybe adjusted to 10 a.m. to 2 p.m. depending on traffic.
If you have questions about textbooks and course materials, please contact store manager Jon Neeper at j.neeper@follett.com.
What to Expect Living on Campus
The
housing handbook
covers all the policies, rules and amenities for students living on campus. Please review this handbook and pay attention to interim policies related to COVID-19. We've also provided overviews of what to expect from life on campus in fall for both housing and dining below.
Cleaning
All campus buildings that are authorized to reopen will be cleaned regularly. Facilities Services will clean all building public spaces consistent with public health recommendations and OSHA guidelines for disinfection. Public spaces include building entries, lobbies, elevators, hallways, bathrooms, hallway door knobs and designated conference rooms. Public spaces do not include offices/office suites, faculty labs, etc. It will continue to be the responsibility of building occupants to clean their own, non-public spaces, such as cubicles and offices. Facilities Services will provide disinfecting wipes when possible, but encourages departments to purchase their own disinfectant or disinfectant wipes. As supply is available, Facilities Services will maintain hand-sanitizer stations at building entrances, elevator stops and high-traffic areas.
Building occupants should wipe down their own frequently commonly used surfaces before and after use with products that meet the EPA's criteria for use against COVID-19 and are appropriate for the surface. Such surfaces include any shared-space location or equipment (e.g., copiers, printers, computers, A/V and other electrical equipment, coffee makers, personal desks and tables, lab and office light switches, doorknobs, drinking fountains, elevator call buttons and elevator panels, handrails for stairs, braille signage, etc.). We recommend that employees using cleaning and disinfection products should always follow the manufacturer's instructions, such as those pertaining to concentration, contact time, and wash hands thoroughly after cleaning.
Financial Aid and Students First Center
The Students First Center will be open the following dates and times to assist students with questions related to admissions, financial aid, registration and billing:
In person: This service is currently not available. Please continue to check the website for updates.
Phone: 209-228-7178
Hours: Monday through Thursday: 8:30 a.m. to 4:30 p.m.
Friday: 8:30 a.m. to 3 p.m.
Chat Hours: Monday through Thursday: 8:30 a.m. to 12 p.m. and 1-4:30 p.m.
Friday: 8:30 a.m. to 12 p.m. and 1-3 p.m.
Virtual Zoom Appointments
Hours: Monday through Thursday: 4-5 p.m.
Weekends and holidays: Closed.
Please visit https://studentsfirst.ucmerced.edu/contact-us-0 for updates, contact information and potential changes related to COVID-19 health and safety needs.
Student Business Office
Emails and phone calls only. No in-person services. Closed on weekends. Office hours are from 8 a.m. to 5 p.m. Monday through Friday.
Academic Advising
The Bobcat Advising Center (BAC) is the academic advising home for all first-year students in every major.
For August walk-in hours (Aug. 3-20), see the July 31 email from your BAC summer advising contact.
For fall semester walk-in hours and appointments (starting Aug. 24), please read the email that you will receive on Aug. 21 from your 2020-21 BAC academic advisor.
Recreation Center
The recreation center will be closed until further notice. It is anticipated the recreation center will be open for the fall. Recreation center operation is linked to Merced County's health orders, as well as the orders from the state of California.
Please go to https://recreation.ucmerced.edu/ for most current information and updates.
Student Health Center
Student Health Services will be open from 8 a.m. to 4:30 p.m. every weekday. Closed on the weekends.
UC Merced Police Department
For information about campus safety escorts or bike and electronics registration, please contact UC Merced Police Department at https://police.ucmerced.edu/.
IT Help Desk
For questions related to technology/online courses, game console set up and VPN, please contact https://it.ucmerced.edu/student-services.
Library
The library plans to be open for fall 2020. For updates and services, please go to the Library FAQ at http://library.ucmerced.edu/node/70101.
No Longer Living on Campus?
If you no longer need on-campus housing, please cancel your housing contract. You may submit your cancellation on the Housing Portal under "Housing Cancellation."