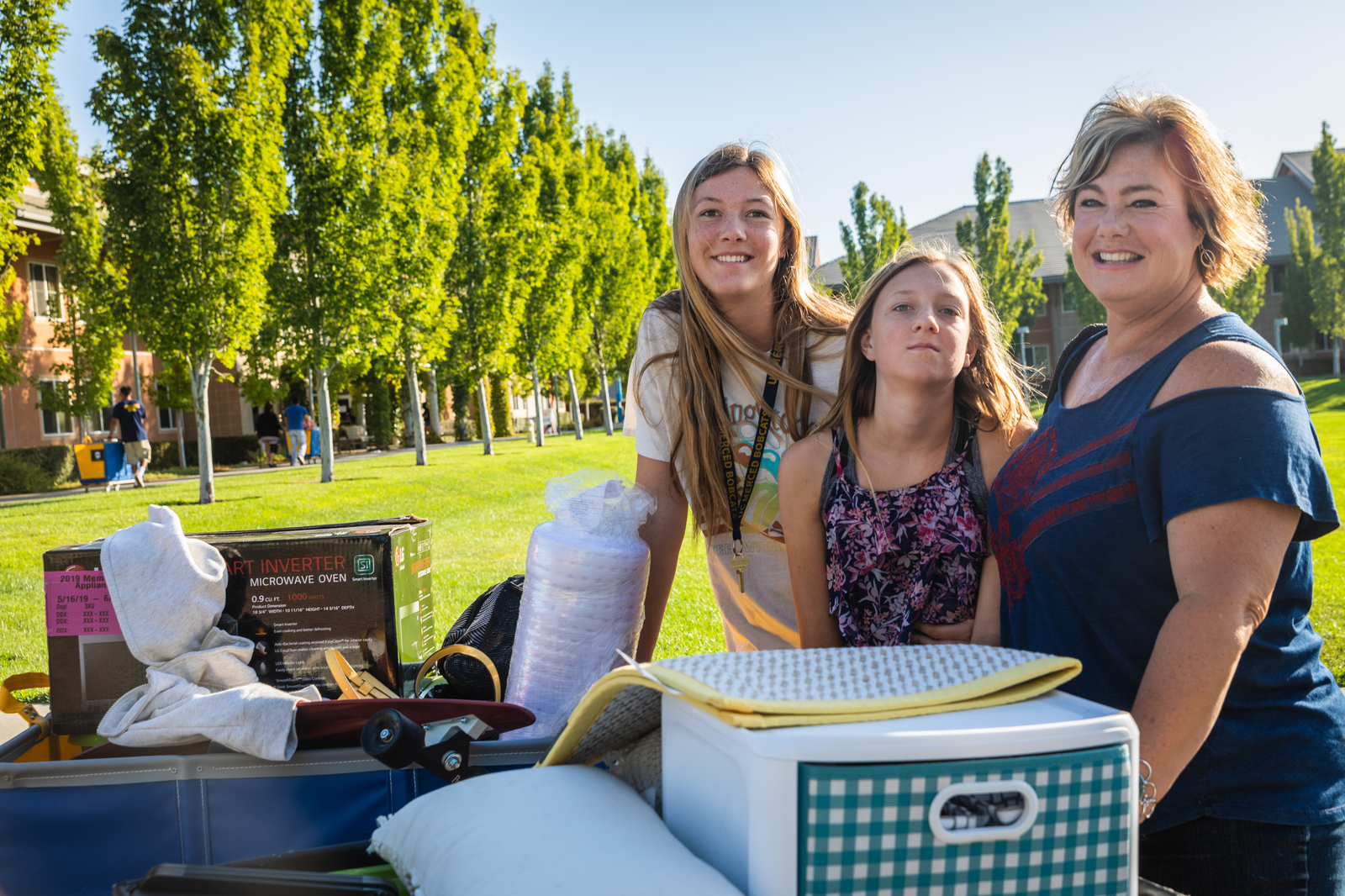 Greetings incoming residents! We are excited about your upcoming arrival to UC Merced Housing and Residence Education, and we want to help make your transition to college as smooth and comfortable as possible. To help ensure that you have what you need in your residence hall and make it feel like home, we have put together a list of what to bring and what to leave at home.
Jan. 12, 2020
Deadline for new first-year and transfer students to sign a housing contract. Contracts will be accepted after this date but will be processed based on a first-come, first-serve basis.
Deadline for new first-year students to request a residency requirement exemption on the housing portal
Jan. 15, 2020
Deadline to pay student bill
Jan. 16, 2020
Move-in for new students
Jan. 19, 2020
Move-in for continuing students
Jan. 31, 2020
Deadline to change meal plans for new spring contract holders
New student move-in:
10 a.m. to 10 p.m. Thursday, Jan 16, 2020
Continuing student move-in:
10 a.m. to 10 p.m. Sunday, Jan. 19, 2020
To move in to your assigned housing, please visit the Valley Terraces housing office and bring a photo ID.
Hand carts will be available for check-out.
Valley Housing Office Hours
The housing office is open 10 a.m. to 10 p.m. daily. Please direct question to the office at 209-228-4663 or the Housing Contact Form.
Move-In Parking
Temporary parking will be available for unloading in the Scholars lot. For long-term parking, please refer to the campus parking details from Transportation and Parking Services.
Tips for a Smooth Move-In
· Read your housing assignment email carefully.
· Move in during your assigned move-in day and time.
· Download and print the Access Pass.
· It is expected to be hot. Make sure to wear comfortable clothes and shoes and drink plenty of water.
· Talk to your roommates and suitemates regarding big items in the room, such as a TV, microwave and/or refrigerator, so that you are not overpacked.
· Each community has access to a community kitchen with basic pots, pans, and cooking utensils.
· Have your student ID ready when you arrive to campus. If you have not yet gotten your student ID, you can submit a photo and have your ID ready when you arrive on campus.
All students are required to have a meal plan. Meal plans can be selected on your Housing Portal under "Housing Forms." Your spring meal plan will be active as of Jan. 12, 2020. New students may change their meal plan until Jan. 31, 2020. You can learn more about the meal plans on the dining website.
Once your spring housing is assigned, your student bill will be updated to include your selected room and meal plan. The payment deadline for spring is Jan. 15, 2020. You can find more details on payment options from Student Business Services.
No Longer Living on Campus?
If you no longer need on-campus housing, please cancel your housing contract. You may submit your cancellation on the Housing Portal under "Housing Cancellation."
The purpose of the Early Arrival Program is to allow student employees to return early for training and for employment purposes.
All returning students can move in starting Thursday, August 22nd without any fee or approval as part of the extended move-in plan.
Students will receive information about Move In with instructions about Move In date and time. Students will be asked to move in according to the date and times assigned to them to facilitate a safe move in experience for everyone.
All Early Arrival check in at Valley Housing Office, 100 Terrace Center, 5400 N. Lake Rd, Merced CA 95340. Please call 209-228-4663 if you have questions.
For directions to campus, please visit this map here.
Parking for Early Arrivals Move-In:
Early arrivals prior to Thursday and Friday (Aug. 22-23) must pay for parking and unload from Bellevue Lot only.
Please remember access to Glacier and Granite during weekdays is only available from Scholars Lane.
If you have questions about parking, please contact Transportation and Parking Services: http://taps.ucmerced.edu/, taps@ucmerced.edu, 209-228-8277.
New first year and transfer students cannot move in prior to Saturday, August 24th unless they participate in the Move In Volunteer Program.
There is a charge of $65/per night for student who move in prior to August 22nd. This charge can either be applied to the student account or paid for by an employer department.
All students need to apply online.
Departments who will be responsible for the early arrival fee, please complete this addition form.
The deadline to request early arrival is August 1, 2019.
Billing will be done after move-in day based on the actual date of arrival.
Early arrival students will be sent move-in details at least a week prior to their arrival. All students are expected to abide by the Housing & Residence Education Handbook and any specific policies regarding early arrival.
Please contact housing@ucmerced.edu with questions or concerns.
Early Arrival Groups
Campus Employees
Can move in starting Sunday, August 4th
Cost is $65 per night with meals
Students covering costs can sign up online via Housing Portal
Departments covering costs to complete a form by August 1st
Living Learning Communities
Please check in with your program coordinator
Move-In Volunteers
Move in Thursday, August 22nd
Need to sign up by August 1st
Early arrival fees are waived unless volunteers did not show up for volunteer shift
Personal/Other
Can move in starting August 18th
Cost is $65 per night plus meals
Should sign up online via Housing Portal
Student Athletes/WOW Program
Move in starting Sunday, August 4th
Athletes should coordinate with the Office of Recreation and Athletics
Summer Housing students transitioning from Summer to Fall 2019
Transitioning begins August 17th, last day of summer session
No additional fees
Unplanned Arrivals
New students arriving August 22nd or 23rd but did not sign up will be allowed to move in but will be charged $65 per night
Students arriving prior to August 22nd without prior approval will be not allowed to move in.