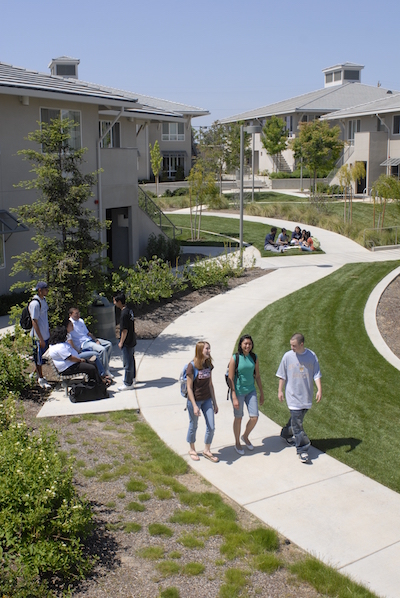 Available June 1 - August 6, 2018
Guest Housing
Included in Your Stay:
Partially furnished room in a UC Merced residence hall.
Ethernet / Wireless Internet
Bed and Bath Linen
Weekly linen exchange and housekeeping services (For stays longer than seven days
Reservations & Eligibility:
Guest Housing has limited availability and all reservations will be honored on first-come, first-serve basis. Please contact Debbie Henderson, dhenderson8@ucmerced.edu or call (209) 228-3137 to request guest-housing accommodations.
Eligibility: To be an eligible guest of the University, you must be engaged in University business during your stay and must have a UC Merced department host and/or UC Affiliation. Some examples of eligible guests include Freshmen Orientation, UC Alumni, visiting scholars, researchers, interns or other guests with a UC Merced department host.
Orientation Housing Accommodations
On-campus housing is available for students and family members in our conveniently located residence halls. You may choose to stay up to three nights to attend orientation and take advantage of a side-trip to beautiful Yosemite National Park!
Room rate for Orientation Housing is $25 per person, per night. Accommodations include fully furnished room, Ethernet/wireless internet, and Bed and bath linen, Toiletries (Soap, Shampoo/Conditioner, Body Soap and Lotion)
Important Note: Students must register for an orientation session prior to securing overnight accommodations.
Registration and Payment
Once the Orientation dates have been secured and advertised on Orientation's webpage, please visit our webpage to register for overnight Orientation accommodations. Reservations are accepted up until 2 weeks prior to your Orientation session.
If you have any questions, email Debbie Henderson at dhenderson8@ucmerced.edu or call the Conference and Event Services office at 209-228-2313.
Conference & Event Services
Debbie Henderson
office: 209-228-3137