Housing Services
Services: Housing Applications, Room Assignments, Housing Contracts, Meal Plans, Room and Board Billings
Location: Half Dome 195, by the Summits Quad
Hours:
Monday-Friday: 8:00am-5:00pm
Closed weekends and holidays
Instagram: @ucmercedhousing
Phone: 209-228-2293
Email: housing@ucmerced.edu

Resident Services Desk
Services: Toilet Paper, Trash bags, Lock-out Keys, Hall Activities, and Mail Services
Location: Valley Terraces, 100 Terrace Center, 5400 N. Lake Road, Merced CA 95340
Hours:
---
Fall 2022 (August 22-December 19)
Desk Hours
Monday-Saturday: 8:00 a.m. to 8:00 p.m.
Sunday: 10:00am to 6:00pm
Fall Break Holidays (November 11, November 24-27)
*subject to revision through October 4
Veteran's Day Holiday, Friday, November 11: Closed
Thanksgiving Break Holiday, November 24-27

Thursday, November 24: Closed
Friday, November 25: Closed
Saturday, November 26: 10:00am-6:00pm
Sunday, November 27: 10:00am-6:00pm
Monday, November 28: Regular Fall 2022 hours resume
Winter Break (December 17, 2022-January 15, 2023)
Dec. 17: 8:00 a.m. - 8 p.m.
Dec. 18: 8:00 a.m. - 6 p.m.
Dec. 19-22: 10:00 a.m. - 6 p.m.
Dec. 23 - 25: Closed
Dec. 26 - 29: 10:00 a.m. - 3 p.m.
Dec. 30: Closed
Dec. 31: 10:00 a.m. - 3 p.m.
Jan. 1-2, 2023: Closed
Jan. 3-10: 10:00 a.m. - 6 p.m.
Regular hours resume on Jan. 11th.
Mail and packages are not delivered to the desk when it's closed. Please factor this into decisions when shipping or mailing items to campus.
---
Phone: 209-228-4663 
Email: hrloa@ucmerced.edu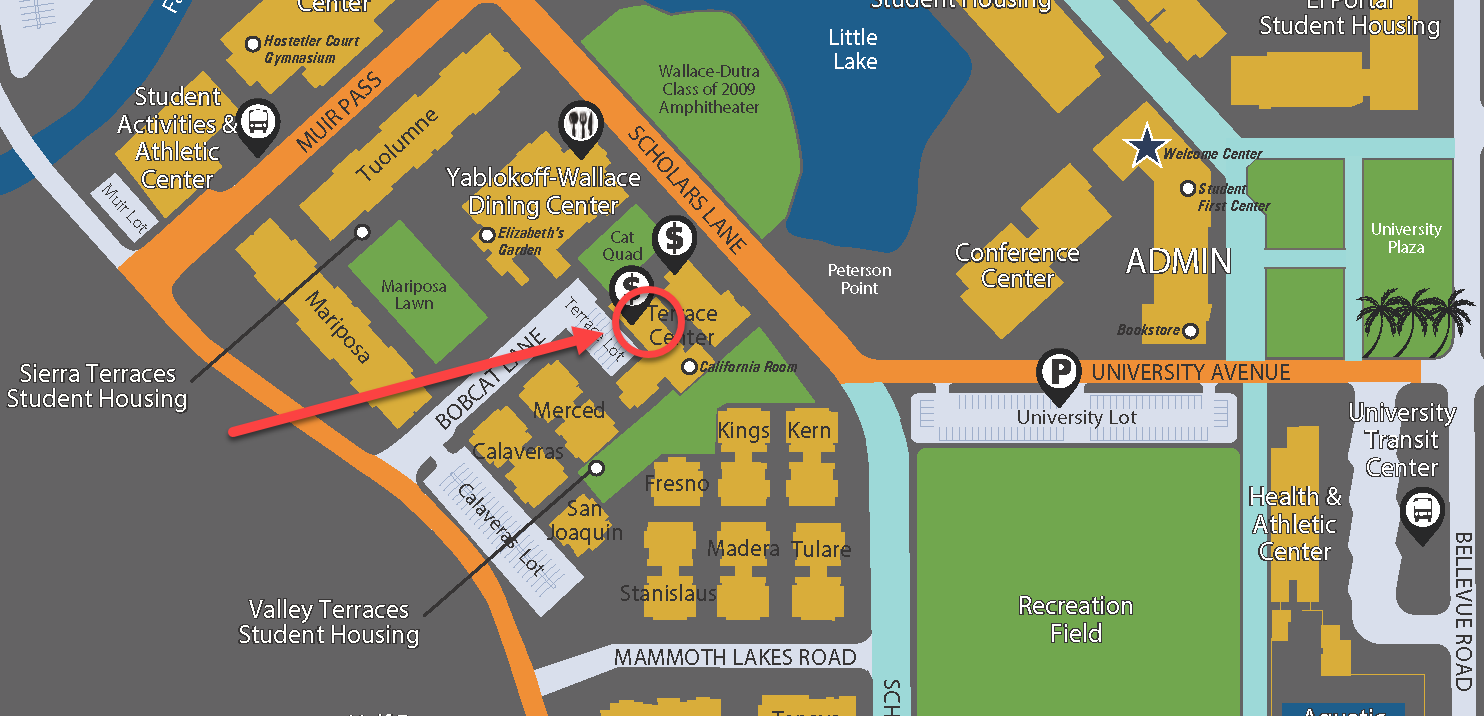 ---
RA on call
For after-hour assistance (RA on Duty):
Valley Terraces: 209-769-8674
Cathedral and Tenaya: 209-769-8692
Half Dome: 209-769-8690
Sierra Terraces: 209-769-8631
Glacier Point: 209-769-8671
Granite Pass: 209-769-8685
Sentinel Rock: 209-325-9023
El Portal: 209-325-9114
---
For emergencies, please contact campus police at 209-228-2677.
Resident Services Desk Phone: 209-228-4663
For questions about current resident students, student issues, or to speak with residence education coordinator during between 8am-5pm
Email: residenceeducation@ucmerced.edu
Residence Education Coordinators Residence Education Coordinators (RECs) supervise the Resident Assistants (RAs). RAs and RECs work together to create safe and inclusive learning communities. RECs are also available for after-hour assistance. To schedule a meeting during your REC's drop-in hours, please use this link. You may also email your REC directly using the links below.
Residence Education Coordiantor Contacts:
Facilities and Custodial Operations
For repairs, please submit a work order. (must be on UC Merced VPN)
For questions and concerns, please call 209-228-2293 or email housing@ucmerced.edu.
Other Contacts: