ALERT: This page is under construction. We apologize for the inconvenience.
Students with Year-Round Contracts
Students with year-round contracts will still have access to their dorms throughout the Winter Intersession. You do not need to reserve a room for the Winter Intersession. However, we will be emailing you a survey about your dietary preferences and when you will be on campus. This is to help dining services coordinate food production.
What is Winter Intersession Housing?
Student housing contracts for academic year 2021-2022 consist of two housing periods: Fall 2021 and Spring 2022. UC Merced Residence Education refers to the period of time between these as the Winter Intersession. Winter Intersession housing dates for 2021-2022 are as follows:
Saturday, Dec. 18, 2021: Winter intersession begins.
Sunday, Jan. 16, 2022: Winter intersession ends.
During winter intersession, housing is closed to student residents with an Academic Year Contract. Students with an Academic Year Contract are prohibited from accessing their housing assignments effective 10 a.m., Saturday, Dec.18 through 10 a.m., Sunday, Jan. 16, 2022, without a winter intersession reservation.
Reserving Winter Intersession Housing
Reserve housing for the Winter Intersession through the Housing Portal. Students who want to stay on campus during winter intersession must request housing by 11:59 p.m. Wednesday, December 15. After December 15, residents will need to speak with their REC for winter intersession reservations.
Residents may select any number of days for housing, and they can directly modify or cancel reservations until 11:59 p.m. Dec. 17, 2021.
If you plan to stay the entire winter break, you would create one new reservation for housing between Dec. 18, 2021 and Jan. 16, 2022.
If you plan to stay for the beginning of winter session and then return closer to spring opening, you must create two reservations. For example: December 18-23 and January 14-16.
You can choose a reason that best applies to you. If you're staying because it's the safest option or for reasons not represented in the choices, please select "other." More details aren't required, as we will approve all eligible requests this year.
This short video demonstrates how to create, edit and cancel reservations online through the Housing Portal:
Winter Intersession Housing Costs and Eligibility
For Winter Intersession, the rate is $65/night for room and board, and will be billed to the resident's throough hrough MyBill.
Facility maintenance during Intersession
Winter intersession is a time of significant campus maintenance. Residents considering intersession housing should be advised that maintenance staff may enter student rooms, fire and life safety systems will be tested during daytime hours, and there may interruptions in electrical service while work is completed. Every effort will be made to communicate these to residents by email as they are determined, but notice may be limited to 24 hours. 
This is the list of scheduled maintenance during winter intersession:
Cathedral and Tenaya window cleaning - accompanied by Housing Services staff, window cleaning contractor has to enter student rooms to clean the window screen as part of the outside window cleaning. Scheduled for December 27th, 2021 to January 9, 2022.
Half Dome window cleaning - no entrance to rooms needed. Scheduled for December 20th, 2021 to December 26th, 2021.
Valley Terraces - Gutter cleaning. No entrance to rooms. 
Valley Terraces - Maintenance staff will be entering your unit to perform Preventative Maintenance - clean fan coils and change air filters as needed.
Dining on Campus during Intersession
Between Thursday, December 23rd, 2021 to Sunday, January 1st, 2022, meals will be served at the Yablokoff Wallace Dining Center from 11 a.m. to 2 p.m. The Pavilion will re-open on Sunday, January 2nd, 2022 with their regular hours. Please see the dining website for more information.
Students reserving winter intersession will receive a survey in early December asking them to indicate which meals they anticipate eating while on campus. This request is to help reduce food waste and to clarify any dietary restrictions.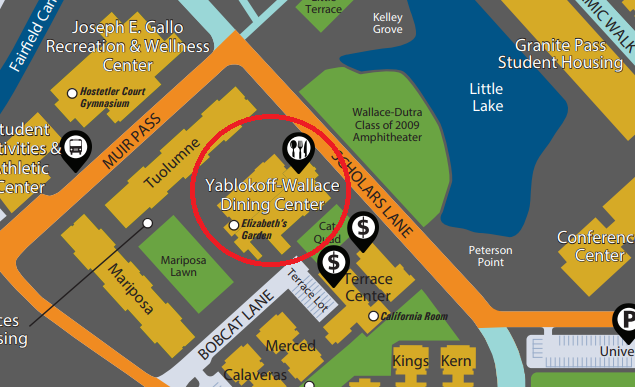 Transportation during Winter Intersession
UC Merced Transportation and Parking Services (TAPS) will offer modified CatTracks and Route UC transit services for finals week and winter break. Changes to regular bus service begin Saturday, December 18. All routes return to regular service Tuesday, January 18. Residents may want to consider ZipCar or other alternative transportation options during the intersession.
View the full CatTracks and Bus schedule.
Desk and Mail Services during Winter Intersession
The Residence Education Office will have limited hours during the break. Students who order packages should be aware package processing and availability will be limited by this schedule. After-hours assistance will be available through the RA on call for the community and University Police.
Dec. 18 - 23: 12:00 p.m. - 8 p.m.
Dec. 24 - 26: Closed
Dec. 27 - 30: 12:00 p.m. - 8 p.m.
Dec. 31 - Jan 2: Closed
Regular hours resume on Jan. 3rd.
By submitting a winter intersession reservation, you are agreeing to abide by all Housing & Residence Life policies during winter recess housing.
If you have questions about billing, contracts, or the housing portal, please contact housing@ucmerced.edu. For questions about winter intersession services, including campus services during winter intersession, please contact residenceeducation@ucmerced.edu.