The health and safety of our campus community is a top priority. UC Merced continues to respond to the novel coronavirus, and the below information is subject to change. Please stay up to date with the latest information for students here.
Please click here for Spring 2022 room and meal plan rates, including step-by-step tutorials on the housing application process.
Incoming first-year and transfer students are GUARANTEED housing for Spring 2022.
Continuing Residents
Application Process and Timeline
**Current on-campus residents DO NOT NEED TO APPLY for the Spring 2022 semester.**
You do not need to do anything to get housing for the Spring Semester, since the contract you signed includes Spring Semester housing.
Current residents who do not wish to return for Spring 2022 are asked to cancel their housing contract by December 1, 2021. Students can cancel their housing contracts through the Housing Portal. Please see the Housing Cancellation page for more details about fees and deadlines.
Current residents who wish to change their meal plan must do so by January 7, 2022 through the Housing Portal.
Move-In Date and Time
Current residents with an Academic Year Contract move back in on Jan. 16, 2022 from 10 a.m. to 8 p.m. Access to the Pavilion will also be available again on Sunday, January 16th. Please check the dining website for Spring 2022 hours and menus.
Residents with Year-Round Contracts will continue to have access to their dorms throughout the Winter Intersession and into the Spring Semester. You do not have a move-in date, since you are free to come and go as you please.
Housing Assignment
Your room assignment will be the same as the previous semester. If you wish to change your room assignment due to roommate conflict, please refer to Room Change Process for more information.
Please visit here for housing and meal plan rates. 
Residential Parking Permit
Those students who currently have fall on campus overnight parking will be given the option to purchase parking for the 2022 spring semester. Starting in November, TAPS will be contacting students with active fall 2021 overnight parking permit permissions and offering the option to purchase overnight parking for the 2022 spring semester.
Incoming First-Year and Transfer Students
New students who wish to be exempt from mandatory first-year housing must submit their application before 11:59 p.m. on Jan. 2, 2022. Find out more about the housing residency exemption process here.
Application Process and Timeline
Spring 2022 Housing Applications open on NOV. 1, 2021. Housing contracts must be signed by 11:59 P.M. JAN. 3, 2022.  Please submit your application through the Housing Portal and sign the contract before then.

Housing will be offered accordingly, on a first-come-first-served basis.

Once an application is processed, students will be sent their Housing Contract through the Housing Portal. Students must sign their contract by January 3rd, 2022. 

Room assignments and roommate information will be posted on the Housing Portal. It may take some time for you to receive your housing assignment, we apologize for the wait.
Students can also choose to cancel or deny their contract through the Housing Portal. Canceling or denying a contract will stop the room and board billing.
Students who applied late: please check your UC Merced email for updates on your housing offer status.
Housing Assignment
Students are now being housed in all dorm buildings. Please visit here to view the dorms and room layouts.
Please visit here for housing and meal plan rates. 
Your room assignment is final. However, you may change your room assignment in March if you experience roommate conflict. Please refer to Room Change Process for more information.    
Move-In Date and Time
New Residents' move-in is on Jan. 13, 2022 from 10 a.m. to 8 p.m. There will be a new student orientation on Jan. 14, 2022. 
Please contact housing@ucmerced.edu if the assigned move-in date or time not possible for you. Please understand that a change may take some time to figure out based on other students' move-in dates and times.
What to Bring
UC Merced Housing and Residence Education wants to help make your transition to college as smooth and comfortable as possible. To help ensure students have what they need in their residence hall and make it feel like home, we have put together a list of what to bring and what to leave at home.
Residential Parking Permit
Any NEW first year or transfer students would be eligible for on-campus overnight parking by applying through the application exception process. Please see here for more details. 
Before Moving in
Symptom Monitoring  
In preparation for your arrival to campus, all residents are expected to participate in the daily health check in for 14 days prior to your assigned move-in date. Your assigned move in date and time will be sent to you first week of January 2022.
However, if you signed the housing contract late, or have circumstances that would prevent you from submitting the daily health check in for 14 days prior to arrival, please compete the attestation form: https://ucmerced.service-now.com/hub/com.glideapp.servicecatalog_cat_ite...
In addition, you must continue to respond to the daily health check in sent to your UC Merced email address while living on campus. This can also be completed using an app. More information on daily health check in can be found here. Another reminder is about your CatCard, if you do not have a CatCard, please email CatCard@ucmerced.edu or visit CatCard.ucmerced.edu to make sure they have a CatCard ready for you when you check in. 
If you were exposed to someone (meaning within 6 feet of them for more than 15 minutes or sharing a bathroom and/or kitchen with them) who tested COVID-19 positive within the last 14 days or you have been diagnosed as COVID-19 positive within the last 10 days, stay home and contact the COVID Response Center at COVIDResponseCtr@ucmerced.edu or (209) 228-0000.  
You will receive more detailed emails with instructions about daily health check in the next few days. These emails will include information about how to use the UC Merced daily mail check in. To be approved to return to campus, you must enter one response each calendar day for 14 days prior to your assigned move-in date. Please read and follow the instructions in the emails about symptom monitoring.   
COVID Testing  
All residents are required to attend COVID testing in the California room upon their arrival to campus. Testing is available from 8:00am-5:00pm in the California room and students need to make an appointment online. If your exact arrival time isn't available for an appointment, make an appointment for date and time closest to your arrival date and time.  
The testing administered will be saliva testing. Students should not vape, smoke, chew, eat, drink, or put things into their mouth for 30 minutes prior to their test.  
Sequestration  
Sequestering means minimizing in-person interactions among students, faculty and staff, whether in the dorms, dining facilities, classrooms or other campus locations where students congregate. It also includes off-campus spaces for those students who live at home or in off-campus housing.  
Students should leave their on- or off-campus residences only to participate in essential activities. For UC Merced, essential activities are defined as getting food from the dining hall, participating in low-risk outdoor recreational activities, obtaining health care services, picking up mail and picking up books. Students should plan to stay on campus during sequestration and should move in prepared with all items needed for the first 14 days on campus.  
The daily health screening must take place each day for 14 days prior to your arrival. Please set a reminder on your phone or write yourself a note. If you have questions or concerns, or if something is not working, please contact COVIDResponseCtr@ucmerced.edu or call 209-228-0000. 
Moving In 
Move-in consists of the following steps once you arrive on campus. There will be signs to guide you along: .
Where to Unload
Half Dome, Tenaya, Cathedral: Scholars Lot
Mariposa, Tuolumne, Valley Terraces: Muir Pass or Scholars Lot
Glacier Point, Granite Pass, Sentinel Rock, or El Portal: Bellevue Lot
After unloading, move car to long-term parking in the Bellevue Lot or depart campus.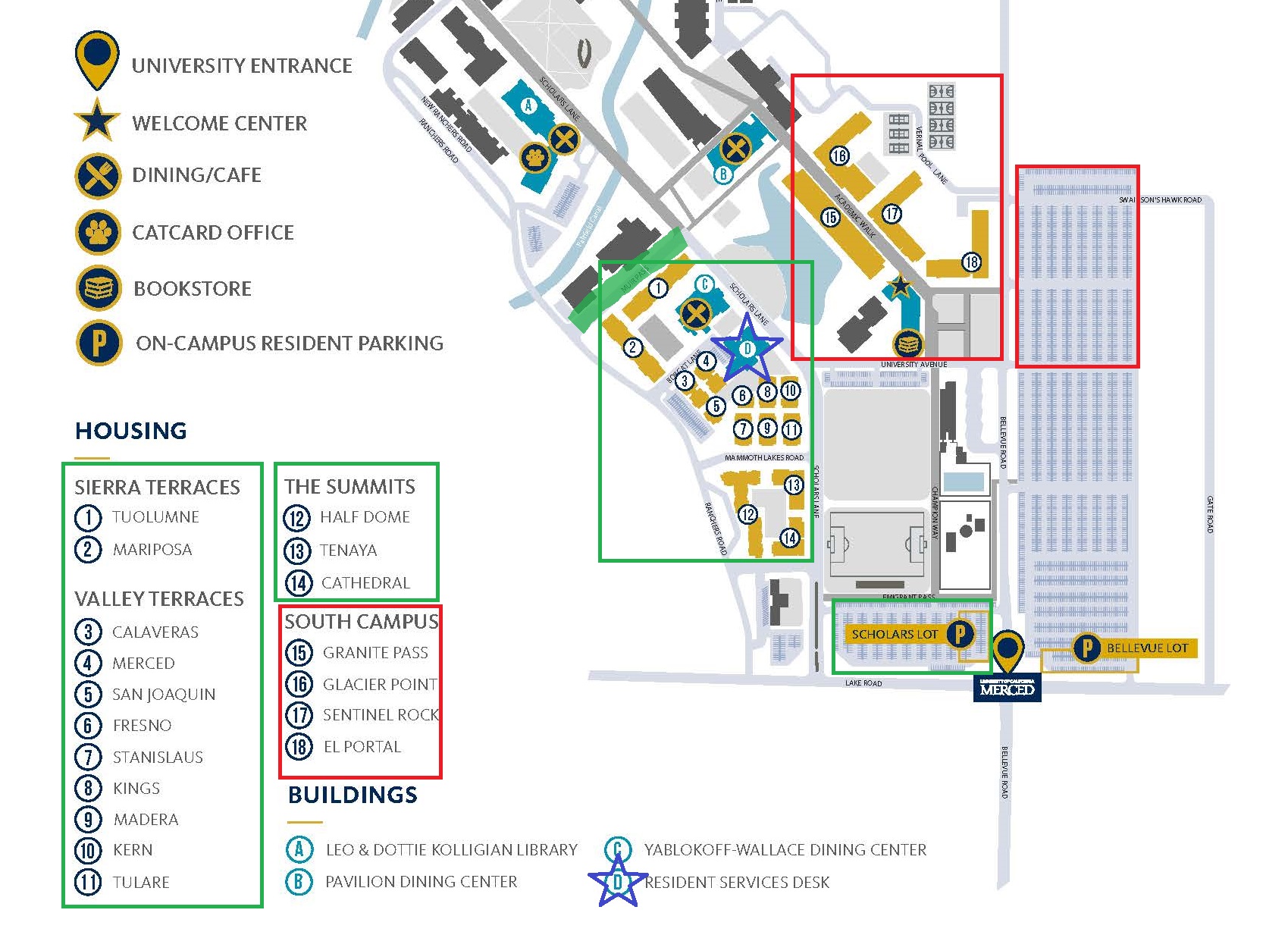 Unloading and Moving In
Families can accompany students to campus to help with unloading. Due to physical distancing requirements, students are limited to two adult guests to enter the building for move-in. Children under 13 can accompany the adults, but all persons must wear a face covering and follow the university's guidelines for physical distancing. Elevator use is restricted to one occupant per elevator, per trip. Family members can wait in the student's room to assist with unloading and unpacking but must stay in compliance with physical distancing. This requirement includes no congregating in hallways or lounge areas. All persons will be expected to wear a face-covering while helping with move-in.
Family or friends are not permitted to spend the night with students in their rooms. Guests who do not comply with our policies will be asked to leave. Students are responsible for the actions of their guests at all times, including during move-in.
COVID Test
Your first step to move-in is the completion of a COVID test. You'll park in the Scholar's lot, then walk to the testing center, which is located in the California Room, near the Resident Services Office. There will be signage to guide you. Testing is for students only; family members do not need to be tested.
The saliva COVID test is free and quick. However, you will need to schedule an appointment for testing in advance of your arrival using the Student health center website. Please schedule your appointment as soon as possible at the website: https://health.ucmerced.edu/covidtesting. The scheduling tool is available now!
If your exact arrival time is not available, select the closest time to your arrival from the appointments. As long as your appointment is on the same day as your arrival, Saturday, January 16th, you'll be able to access testing. Testing is quick, but requires that you don't eat, drink, or put anything in your mouth for 30 minutes prior to arrival. This includes no water, coffee, gum, vaping, or anything else in the mouth for 30 minutes prior to your testing.
If you test positive for COVID-19, or are experiencing symptoms consistent with COVID-19 prior to arrival, please contact the Covid Response Center (CRC) at CovidResponseCtr@ucmerced.edu or 209-228-0000 as soon as possible. Do not come to campus if you are experiencing symptoms or have tested positive without consulting the CRC.
CatCard and Keys  
You will receive your room keys and CatCard at the Resident Services Office. Please follow the signs directing you there from the parking lots.
If you cannot find your dorm, the staff at the Resident Services will be more than happy to help direct you.
Mailing Address
Use the following format as your mailing address:
[Your Name]
[Building] [Room]
5400 N. Lake Rd.
Merced, CA 95340
You can pick up your mail at the Resident Services at the Valley Terrace Offices.
Download the complete instructions for using smart lockers via Smiota PoDS.
Valley Terrace Center - Resident Services Desk Hours
The Resident Services Desk will be open from 8 a.m. to 8 p.m. during move-in. Please direct questions to the office at 209-228-4663 or the Housing Contact Form.
CatCard
Your CatCard is used to access your residence hall and to get food and services on campus. Each student living on campus must have a CatCard.  
New students must submit a photo online. Photos can be submitted here: http://CatCard.ucmerced.edu/services/photo-selfie. If you have any problems with this service, please email CatCard@ucmerced.edu. 
At move-in, new students will pick up their CatCard at the Resident Services Desk after COVID testing at the California room. Please follow the signs to Resident Services and the California Room. You'll need to provide a form of picture ID to claim your CatCard.  
Continuing students who have lost their CatCard and need a replacement should visit http://CatCard.ucmerced.edu/manage-account/replacement-CatCards and follow the instructions to replace their card.   
Meal Plan
Your CatCard is used to access the Pavilion Dining Center.
You can check what meal plan you signed up for on the Housing Portal or through MobileID. If you would like to change your meal plan, please do so by January 7th, 2022 through the Housing Portal. Changes to a meal plan will result in changes in total meal plan billing to your student account.  Please contact housing@ucmerced.edu if you have any questions. 
Your meal plan starts: Saturday, January 13, 2022
Move-in dining hours: Please check the dining website for Spring 2022 hours.
Campus Policies
The housing handbook covers all the policies, rules and amenities for students living on campus. Please review this handbook and pay attention to interim policies related to COVID-19. We've also provided overviews of what to expect from life on campus in fall for both housing and dining below.
What to expect living on campus
Summary of housing handbook policy changes in response to COVID-19
Offices on Campus
Students First Center
For questions about Admissions, Financial Aid and Registrar. Please visit https://studentsfirst.ucmerced.edu/contact-us-0 for contact information and hours.
Student Business Office
Emails and phone calls only. No in-person services. Closed on weekends. Office hours are from 8 a.m. to 5 p.m. Monday through Friday. General inquiries of the department can be made to sbs@ucmerced.edu.
Academic Advising
The Bobcat Advising Center (BAC) is the academic advising home for all first-year students in every major.
Recreation Center
Please visit https://recreation.ucmerced.edu for most current information and updates.
UC Merced Police Department
For information about campus safety escorts or bike and electronics registration, please contact UC Merced Police Department at https://police.ucmerced.edu/.
IT Help Desk
For questions related to technology/online courses, game console set up and VPN, please contact https://it.ucmerced.edu/student-services.
Library
For updates and services, please go to the library FAQ at http://library.ucmerced.edu/node/70101.