Become a Move In Volunteer!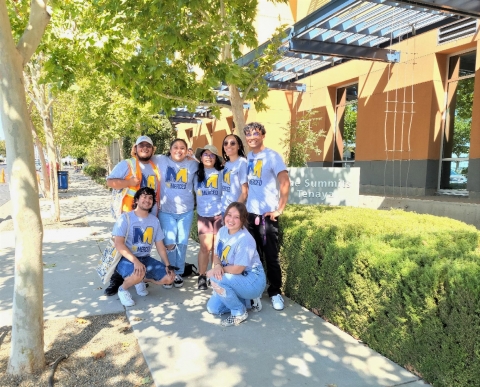 Move In volunteer sign up is currently closed and will re-open again in the Fall 2024 semester. If you already signed up to be a move-in volunteeer, you should receive an email with additional instructions for move-in and training the week of July 17th.
Be part of the move in team that welcomes over 4,300 students to their new home!
300 move in volunteers assist in directing traffic, unloading vehicles and helping move incoming students into their new room. The Move In Volunteer Program is available to all UC Merced faculty, staff and students. You don't have to live on campus to be a volunteer.
Benefits 
Dedicated early move-in assignment on Wednesday, Aug. 16, you will be allowed to move-in earlier than other residents and do not need to make a move-in appointment as there is no move-in volunteer option. 
Meet new people, make friends and help others.
Showcase your Bobcat spirit.
Get to move in early at no cost
Faculty, staff and students without a meal plan working a four hour shift are eligible for a meal plan waiver for an all-you-care-to-eat meal at a UC Merced dining center.
Put in service hours for your club.
Duties
Greet and direct students and families as they arrive.
Unload vehicles and move students' belongings to their rooms.
Distribute CatCards to new students.
Distribute and retrieve move-in carts.
Shifts are four hours (7:30-11:30 a.m., 11:30 a.m. to 3:30 p.m.) or two hours (3:30-5:30 p.m.). Volunteers are assigned 2-3 shifts between Thursday, August 17 and Sunday, August 20.
Student volunteers moving in early to assist must work a total of two shifts or eight hours. Faculty, staff and off-campus students can work any number of shifts.
Qualifications
Must be a UC Merced student, faculty or staff member

Must be energetic and have a positive attitude

Must be able to stand for several hours at a time

Must be able to work outside in the sun, rain or wind

Ability to lift 30 pounds is preferred but not required

Must attend safety training and willing to take direction

Thursday, Aug. 10th, 7 p.m. (online via zoom) link will be emailed to volunteers 
Sunday, Aug. 13th, 7 p.m. (online via zoom) link will be emailed to volunteers

Must be friendly and helpful to a diverse population of students and families

Must be available to move in at the scheduled time

Must be available work all shifts as assigned
Questions? Please contact Esmeralda Macias at emacias29@ucmerced.edu or Juan Robles Nava at jroblesnava@ucmerced.edu.