What to do if you test positive or if you have symptoms
Complete the COVID19 Positive Survey to notify the COVID Response Center. for support to the Residence Education support team. This request will prompt delivery of masks and other support items to your room. These are delivered between 9am-6pm, daily.

Isolate in your room and wear a high-quality face covering (double surgical mask, KN95, KF94, or N95) at all times. You will be contacted by the COVID response team to check in and to discuss your isolation duration.

Students who have severe symptoms (shortness of breath, chest pain, fainting, or fever lasting more than 3 days) should seek clinical care immediately; for milder symptoms, please stay home and rest. Student Health is available for telehealth visits or questions call 209-228-2273 to make an appointment or speak with clinical staff.


 
What to do during isolation
If you have COVID-19, you are required to go into "isolation" for up to ten days*, regardless of vaccination status, in order to limit the spread of infection to others. Remain in your room with the door closed as much as possible, hosting no others than those assigned to your room, during this time.
Per our local Public Health officials:
*Standard isolation requirement is 10 days (longer for immunocompromised). You are most infectious until day 5 (inclusive) of symptoms. Day 6-10, you may be able to leave "isolation" early, if your symptoms are resolved, and you test negative with a antigen self-test, but you must still wear a mask until day 11. Please note that this is uncommon – most people stay positive until at least day 7-8.




To request early release from isolation after day 5, submit your test results to myHealth Portal. 


Click on the "messages" link on the left side

Click "new messages"

Click the line item for "Self-report COVID-19 test results" and click continue

Follow prompts on page.

Wear a high-quality, well-fitting mask at all times for the entire infectious period (10 days following onset of symptoms, or positive test if you don't have symptoms). Your mask should be on at all times in your room, unless you do not have any roommates. This includes during sleep. An N95 mask is preferred; other good options include double-masking with regular surgical (paper) masks, KN95, or KF95. Instructions: How to use a N95 Mask, How to remove a mask.

You are strongly encouraged to share the news with your roommates and other close contacts, so that everyone can take appropriate precautions.




A close contact is anyone who was in the same room (indoors) or vehicle with you for a total of 15 minutes or more over a 24-hour period during your infectious period.

The infectious period for COVID-19 starts 2 days before your symptoms appear (or 2 days before your positive test if you did not have symptoms) and continues until the end of your isolation.

Keep your door to your room closed and windows open as much as possible. Opening windows may not be advised on hot days, as it stops the flow of HVAC cooled air into your room.

Do not enter the dining hall. Food will be available at the east entrance of the pavilion for you or another person to pick up on your behalf. Meals can be picked up twice per day outside the east entrance, with the first meal between 10am-11am and second between 5pm-6pm. You will communicate your meal choices by selecting from a menu emailed to your UC Merced email account each day.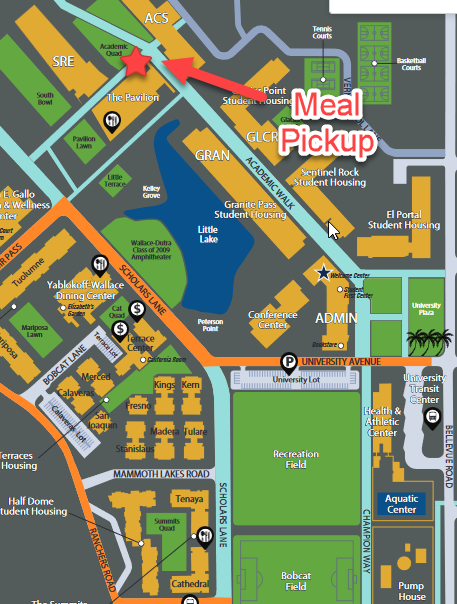 The following exceptions are allowed for brief trips and then returning directly to your room:
Use of the common bathroom. If possible, avoid heavy traffic times, and wash hands with soap as soon as you enter. Always keep your mask on except when brushing your teeth/brief showering. Wipe down any surfaces you have touched with a sani-wipe provided.

Use the laundry facilities in your building only when absolutely necessary, and try to avoid peak times. Always keep your mask on and wipe down any surfaces you have touched with a sani wipe.

Sit outside, away from others to get fresh air. You can go for a walk alone. Please wear your mask.
You are not permitted to:
Go to in-person classes, labs, or workplaces

Enter any campus building (excluding your residence hall or University Health Services, for timely/essential care)

Be with others in groups.

Attend group events like community service, outdoor concerts, and other gatherings that bring people together.

Utilize any common areas in your residential building. Including, but not limited to, gyms, recreation facilities, lounges, or kitchens.

Use public transport/rideshare services.

Enter the Pavilion, YWDC, Lantern, or other campus dining building.
If you are found doing any of the above during your isolation period, this may constitute a violation of the Housing Handbook and Code of Student Conduct.
How long to isolate and when you can officially end isolation
Per public health orders, isolation is required for a full ten days, however as listed above, you may be able to release early if you test negative. The Covid Response Team will discuss this option during your case interview.
What if your roommate tests positive
If your roommate, or other close contact, tests positive and you do not have symptoms, you are no longer required to quarantine, regardless of your vaccination status. Instead, get tested 3-5 days later, monitor for symptoms, and wear a facial covering around others. If you become symptomatic, you are required to isolate and get tested.
If your roommate tests positive and you are at high risk of severe disease, you may request a temporary move to another location for the duration of the infectious period. Medically high-risk residents will be provided with accommodations, meals, and other basic needs at no extra cost."Medically high-risk" is determined by the Student Health Center. Students at high risk of severe disease can message the COVID Response Center to confirm risk and initiate the process of moving to a different location for the duration of a roommate's infectious period.
If you witness a violation of the isolation protocols or the Housing Handbook, you are encouraged to either report this information to your RA or send an email to residenceeducation@ucmerced.edu with identifying information. Residential Education staff will then submit a conduct report on your behalf. Reporting what you witness will help protect your fellow students and our community. We are all in this together.
What to do if you need Residential Life Staff support
Residential Education Staff Members do not provide guidance when it comes to your health status. Residence Education will be your primary point of contact for non-medical isolation questions. We encourage you to refer to your isolation start email that you received from residenceeducation@ucmerced.edu. Please refer to your check in email for information regarding appropriate phone numbers for support.
If you are in need of in-person staff support, you are required to wear a high-quality face covering (double surgical mask, KN95, KF94, or N95). If you are not wearing one, you must let the staff member know, and they will bring you a face covering.