Students may move out or move off campus, or move out of a room on campus to a new room on campus anytime of the year for the following reasons:
1. Student has decided to move off campus. You  must complete the cancellation process: https://housing.ucmerced.edu/cancel
2. Student has decided to take an Education Leave. You  must complete the cancellation process: https://housing.ucmerced.edu/cancel
3. Student has decided to withdraw from the University. You  must complete the cancellation process: https://housing.ucmerced.edu/cancel
4. Student has finished the academic year (from August to May).
5. Student has finished the summer housing contract term.
Please contact your RA, your Residence Education Coordinator, or the Residents Service Desk at Terrace Center anytime if you have questions about moving out: residenceeducation@ucmerced.edu, 209-228-4663. Please check your UC Merced email for contract cancellation approval from the Housing Services Office, housing@ucmerced.edu, 209-228-2293.
General Moving Out Process
How to Move Out:
Pack all of your belongings and remove them from your room or apartment. Dollies will be available at the Valley Terraces desk. Please call 209-228-4663 or email residenceeducation@ucmerced.edu to confirm, of if you have questions.

Clean the room and common spaces of your room/suite.

Remove trash and return furniture to its original condition.

Return assigned keys to the Valley Residence Education Office before leaving campus using the On-Campus Check-Out Envelope.

If you have a bike, be sure not to leave it here.

Cleaning fees will be assessed if the space has not been thoroughly cleaned.

Contract cancellation fees will not be applied during this process for fall 2020. All students that wish to move-out and cancel their housing can do so. Below is a list of charges for common cleanings and repairs. Actual charges are based on time and materials according to the University Facilities Recharge Rates.


Trash Removal....................$25

Carpet Cleaning..................$60

Painting Room....................$15/hr

Painting Door......................$45

Screen Repair.....................$50

Light Fixture Cover.............$25/cover

Carpet Repair.....................$90/Sq. Ft.

Key Replacement...............$100/lock
Any damage charges will be assessed if there is damage to the room. Please refer to the Housing Handbook to see more detailed information about the damage charge process.
Choose your check out method (explained below). Please read this section carefully as you will be charged for each day until the Housing office receives your keys.

Questions or concerns, contact your Residence Education Coordinator, or email residenceeducation@ucmerced.edu.
Cleaning Checklist:
ALL Residents
All amenities accounted for - bed, desk, chair, 2 sets of drawers, mattress, and 1 trash and 1 recycle can per room.

Furniture must be completely emptied and wiped down.

Remove all personal items from your room, bathroom, and living room if applicable.

Trash and recycling must be taken out to the dumpsters.

All personal furniture must be removed.

Turn off lights.

Close and lock all windows. Leave drapes open.

Please return any Dining Center dishes and utensils to the Dining Center before moving out.
Sierra and Valley Terraces ONLY
Suite should contain: 1 toilet plunger, 1 small broom/dustpan, and 1 cleaning tote.
Check out Methods:
Room Inspection by Housing and Residential Education Staff Member (optional):
If you want to have your room inspected prior to move out. You can make an appointment with your Residence Education Coordinator.

You must be fully moved out and ready to return keys prior to the inspection time.

During this time, the staff member will assess any damages to your room/suite and collect your keys.

Return your key to the Valley Housing Office desk.
Please note that any damage that has been incurred while you have been living there will be charged to your account.
Express Check Out (This is the quicker process of the two options):
This option allows you to leave at your convenience.

You must pack up and remove all your belongings from your room.

You are responsible for cleaning the space and removing your belongings and trash.

Report any damages that have occurred while living in the room/apartment. Your room/apartment will be inspected after you move out, and you will be charged for any damages, missing items, and/or cleaning charges. Damages, missing items, and/or cleaning that no one claims responsibility for will be divided equally among those living in your room/apartment.

Go to your Valley Terraces Residence Education Office for a check out envelope.

Put your keys in the envelope and seal it.

Fill out your name, ID number, room number and time of check out.

Sign the envelope and return it to the Front Desk Assistant or Drop Box (in front of mail room, next to the Valley Residence Education Office).

Charges for any additional individual room/suite/apartment damages that are found by staff after check out will be charged to the student's account.
If you forget to return your key before leaving, you may use the following procedure to return your key:
Mail your key to the following address: Valley Housing Office, 100 Terrace Center, 5400 N. Lake Road Merced, CA 95340.

Please use a padded envelope or other means to prevent the key from being lost in transit. You must mail the package with a tracking number.

Email the tracking number to residenceeducation@ucmerced.edu.
Keys must be shipped and received by the Valley Residence Education desk within 5-10 business days. Any key not returned, or shipped, by 5pm, after 10 business days will be replaced and billed to your student account (cost = $100.00 for room key and $30 for temp access cards).
Meals
Cat Dollars roll over until the student leaves the institution (for Catdollars refund because you are leaving the institution or graduating, please check out the refund process here: http://catcard.ucmerced.edu/
Mail
Check your email or the Smiota app to ensure you have all your mail and packages from the desk. If you have mail, please visit the Valley Residence Education Office to claim it before departing campus. Update your mailing addresses with 3rd parties such as USPS, Amazon, Chegg, and others. All mail and packages will be returned to sender the following Monday after you moved out. 2020.
Students must also go the my.ucmerced.edu portal to update the Mailing Address so that the University will be able to send communication to you accordingly. The instruction is here: https://housing.ucmerced.edu/sites/housing.ucmerced.edu/files/documents/....
Parking
Please consult Transportation an Parking Services if you have questions about where to park to load your belongings, so that you can move out safely, and not get a ticket. For end of the year move out, you will receive information from Residence Education about move out details including parking. You will also be requred to attend End of Year move out meetings by your RA.
Spring 2022 Move out Parking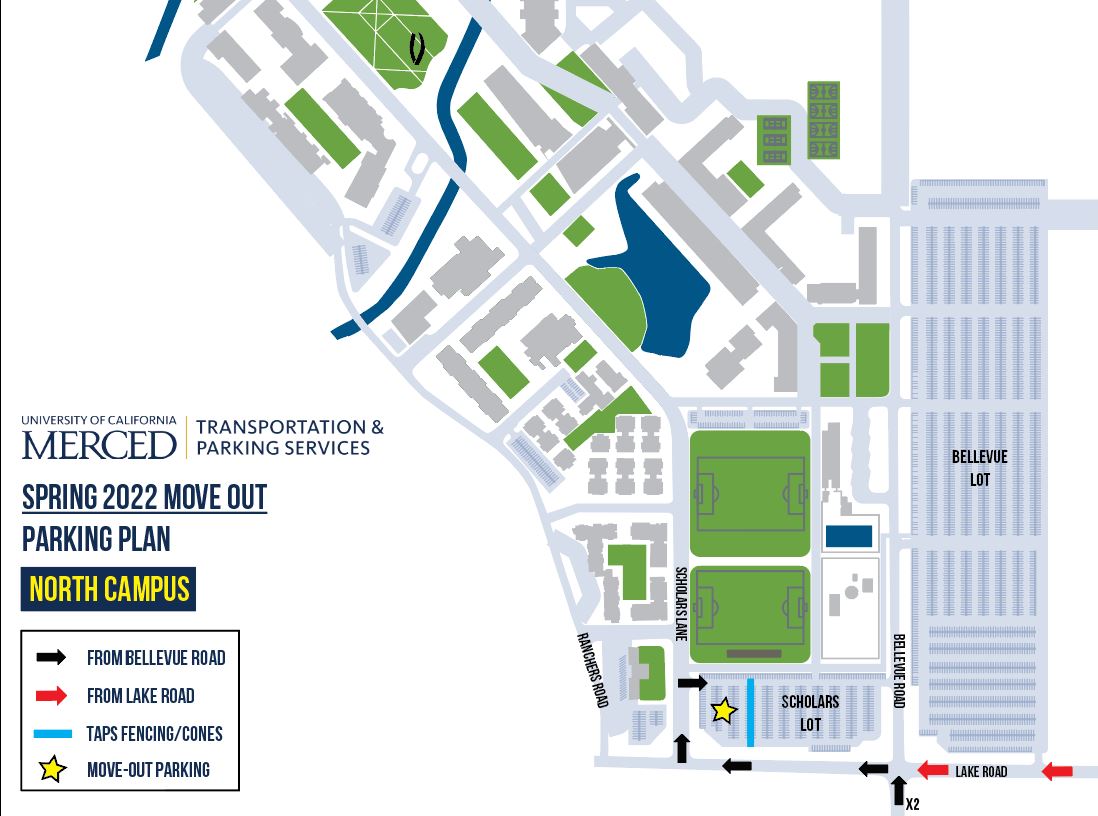 South Campus move out parking map