Professional Engineering (PE)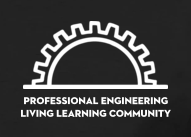 Available to: First-year students interested in engineering carrers
Located in: Granite Pass
Professional Engineering Living Learning Communities (PE LLCs) are intended for first-year students interested in engineering careers.
Students in the PE LLCs will enroll in SPRK 010: Inclusive Innovation in the Fall semester. and in ENGR 091: Professional Development in the Spring semester. They will have the option to enroll in ENGR 096: Human-Centered Research & Design in the spring semester. In addition to taking these courses, students in the PE LLCs will engage in communal learning and career development experiences such as workshops, panel discussions and collaborative projects. The PE LLC in academic year 2023-24 will be affiliated with the Society of Hispanic Professional Engineers (SHPE), whose members will provide peer support for first-year students to socially adjust and academically succeed as engineering majors. Please not that members of the LLC are required to attend professional development events outside of class. These events include workships, talks, panels, etc..
Students with questions about this LLC should contact us at livinglearning@ucmerced.edu.