Current residents do not need to apply for housing during Thanksgiving break.
However, we ask that you complete this survey to indicate your intent to stay on campus during the break. This is to help Dining Services coordinate their food production and students' dietary needs.
Returning to Campus after Break
When we return from Thanksgiving Break, we will have our Asymptomatic Testing Center located at the Conference Center with increased staffing. We strongly encourage the entire campus community to stop by Monday, 11/29 through Thursday, 12/2 to take an asymptomatic test. We know that the Thanksgiving Holiday is one that comes with large familial and social gatherings and want to ensure that we each do our part to minimize the risk for our Bobcat Community.
To the extent you can gather outdoors socially, please do so. Outdoor transmission is extremely rare and allows us to both gather with our friends and family and minimize the risk of extended exposures.
Please see the Do Your Part website for more information.
Dining on campus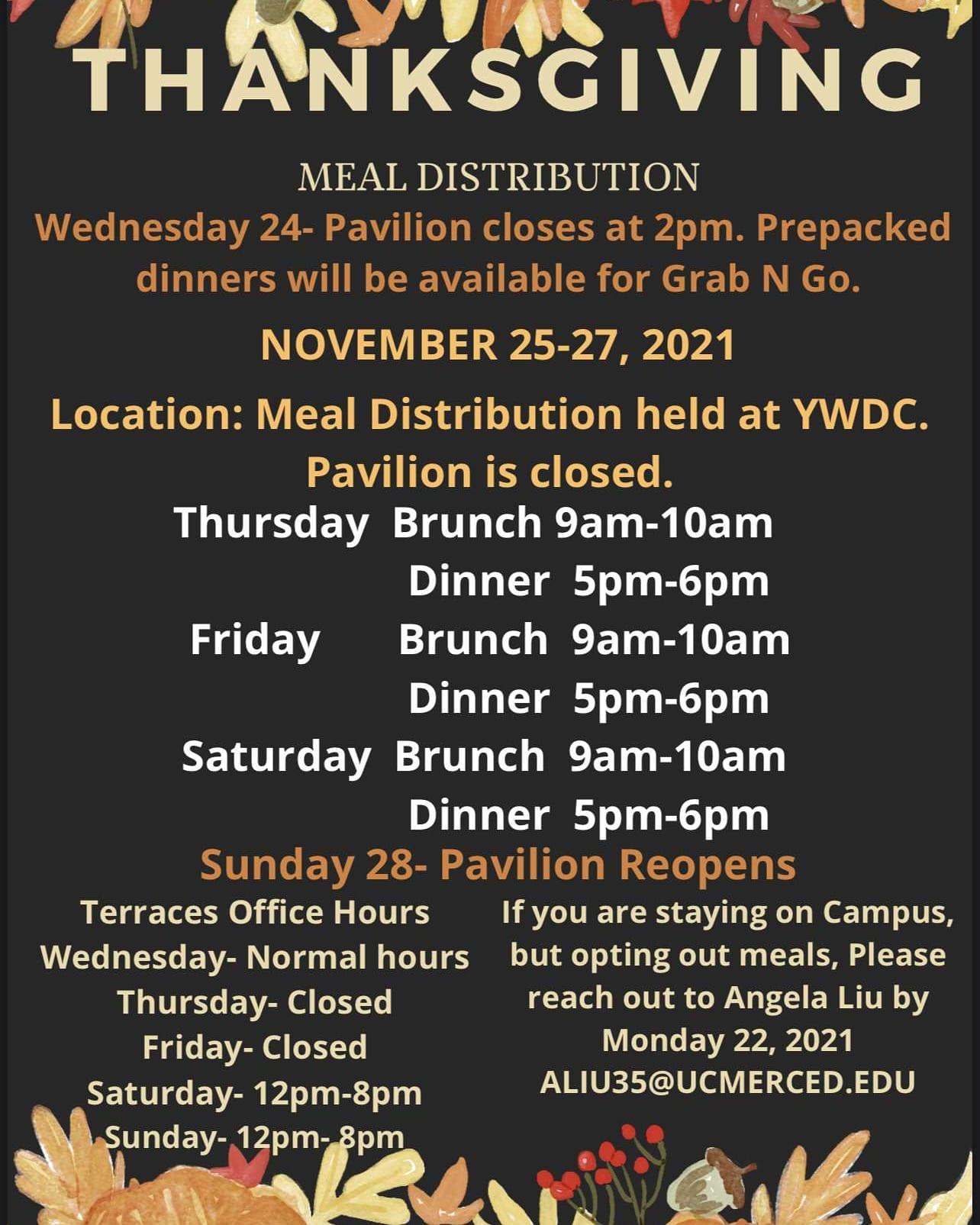 On Wednesday, November 24th, the Pavilion will close at 2 p.m. Students can grab pre-packed dinners during lunch.
From Thursday, November 25th, to Saturday, November 27th, food will be distributed at the Yablokoff Wallace Dining Center. Click here to see a map.
The Pavilion will re-open on Sunday, November 28th with their regular hours.
Alternatively, one food truck is scheduled to be on campus each day from 11 a.m. to 6 p.m.:
Thursday, November 25th: Little Italy
Friday, November 26th: Halal Shop
Saturday, November 27th: Fresh Fried
Please see the dining website for more details.
Transportation
The CatTracks bus services have altered hours for the Thanksgiving Holiday.
Wednesday, Nov. 24: Regular service
Thursday, Nov. 25 - Sunday, Nov. 28: NO SERVICE
Monday, November 29: Regular service
View the full CatTracks and Bus schedule.
Desk and Mail Services
The Residence Education Office will have limited hours during Thanksgiving Break. Students who order packages should be aware package processing and availability will be limited by this schedule. After-hours assistance will be available through the RA on call for the community and University Police.
Wednesday (Nov. 24): 8:00 a.m. to 8:00 p.m.
Thursday - Friday (Nov. 25 - 26): Closed
Saturday - Sunday (Nov. 27 - 28): 12:00 p.m. - 8 p.m.
Regular hours resume Monday, November 29